Wednesday 1st of December 2021
Angul BJD stages protest against LPG price hike
Angul(FASTMAIL) -
Biju Janata Dal (BJD) today hold dharna and protests across five assembly constituencies and three urban bodies against price rise of LPG in Angul district. The BJD along with activists of its wings such as Biju Mahila Janata Dal (BMJD), Biju Chhatra Janata Dal BCJD) and Biju Yuva Janata Dal (BYJD) hold dharna and protest meeting today in Angul, Athamallik, Talcher, Chhendipada and Pallahara assembly segments besides the activists hold dharna in front of Angul, Talcher municipality and Athamallik NAC.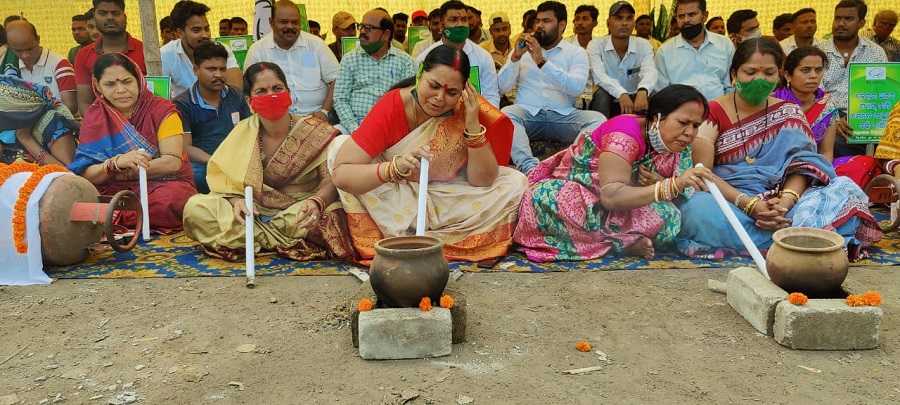 The BJD activists were demanding reduction of cooking gas prices. Mahendra Bastia,the president of BJD,Angul district said ,"The activists of Biju Janata Dal ,including the women wing, students and BJD youth participated in the protest meet. We have launched the agitation against price rise of LPG and if the government doesn't reduce the price of LPG we would go for intensifying the agitation".
He said that the central government has increased the price of cooking gas. The situation is such that it is not possible for the poor to use LPG for cooking. "Where the central government's Ujjwala Yojana has gone",he asked question.
He said that the LPG prices was at rupees 500 in 2015 while it rose by 70% now.
Related Odisha News News
Angul,FASTMAIL -Dhenkanal collector has asked officials to draw up plans to meet the upcoming Omicron threat which is looming large in the state as well as the country. The collector Saroj Kumar Sethy in an emergency meeting of district officials asked block development officers to keep ....
---
Angul,FASTMAIL News) : Hundreds of activists, including women under the banner of Ma Maheswari Praja Sangha held a rail roko at Handapa railway station for about two hours on Tuesday demanding shifting of a coal stockyard near the station. Due to the rail rook by the activists Balangir-Bh....
---
DHENKANAL:There was a clash in Rajkishorepur village under Gondia police station where in the palm of a man was snapped. The injured was immediately rushed to SCB Medical college Cuttack in the night where operations were made to reunite the hand and palm.
---
Angul(FASTMAIL) -Two journalists who had gone to Angul district head quarters hospital for the collection of news were allegedly assaulted by the security guards deployed at the gate. A police complaint in this regard also has been filed in Angul police station today by the scribes....
---
FROM BKROUT DHENKANAL:Dhenkanal collector Saroj Kumar Sethy has banned DJ sound system across the district in all occasions.He has allowed mike other sound system during the marriage ceremony and other functions in the district.But prohibited DJ. Sethy was chairing a meeting of district ....
---
© 2021 Fast Mail Media Pvt Ltd. All Rights Reserved.