Bhuban bullock festival draws huge crowd
By Jagadananda Pradhan
BHUBAN(Dhenkanal):-- Thousands of people thronged Bhuban to witness the two- day world famous bullock festival (Balada Yatra) at Bhuban where this festival has become a grand affair and celebrated over centuries here. As, due to Covid-19 restrictions, the Yatra couldn't be held in big way for two years, the locals are celebrating the festival in a grand manner this year.
Bhuban, in Kamakhayanagar subdivision in Dhenkanal district which was the largest village in population in the Asia continent was incorporated into NAC in the year 1972, has become famous for its annual bullock festival (Balada Yatra).
Every year,besides,the durga puja celebration, there is a 2-day bullock festival in Bhuban on Vijaya Dashmi and Ekadashi, the next day besides.The rituals of Bullock festival started on the day of Vijaya Dasami.


To ensure the festival's success, bullock owners trained the blocks fifteen days before the celebration to acquaint the bullocks with loud music, crowd and light.Then the bullocks are selected after proper health examination.
After the worship of bullocks, about 32 bullocks were taken in a procession this year.The bullocks decorated with beads, furs and colorful saddles were taken near to a tree where goddess Ban Jari resides and then again they come back to their homes. On the next day,on Thursdayat about 10pm again the bullocks were taken along with goddess Durga idols in a procession in the area.
This festival of bullocks were organized by both Thoria and Baladia bania community, which couldn't be found elsewhere in the world, according to the villagers.
The Thoria community people first worshipped at Chandi temple while the Baladia community people worshipped at Madanmohan temple. Then after finishing all rituals at Jaganatha temple they took out bullock procession or Balad yatra,according to villagers.
This Bullock festival of Bhuban has a special identity. Every year,on this day,the bullocks are decorated and taken in a procession in Bhuban. More than 30-40 bullocks takes part in the procession.
Brahmananda Sahoo,the president of Thoria Samaj,said ,"In ancient times,Bullocks were used for transportation purposes for both the Thoria community and Baladia bania(goldsmith) community of Bhuban.These community people use Bullocks for the trade and business purposes in the past".
"These traders and businessmen used to travel miles to trade salt,lakha,jhuna and other forest products besides silver and copper business also.Thus in order to pay respect and honor the bullocks, when these animals are not engaged in any work, they were taken in a procession to the village gram devati for worship"he said.
Purna Chandra Sahoo,,a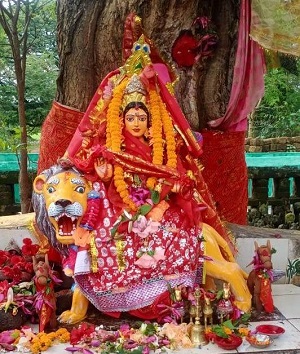 resident of Laxmi Chhak told TOI,"The bullocks are attired with ornaments, beads and bells in their neck with colorful velvet saddles in their back were taken in a procession by the people of the Thoria and Baladia community for the worship at Gramadevi(Village Goddess).Though the procession starts with full blown music, the bullocks never get disturbed either due to the music or noise during the procession which covers around 4 to 5 kilometers long and runs the whole night".
Now a days, there are shortage of bullocks in the area forcing people to take bullocks on rent basis ranging from 10,000 to 15,000.I myself have brought bullocks this year on rented basis. Even though we take bullocks on rent, we do enjoy it with respect.
On the next day of Vijaya Dashami, the procession starts around 10 PM and goes till the next day morning. Then through out the day idols of goddess Durga are being taken along with the bullocks for immersion, he said.
Earlier,till 1949 only bullocks were taken in procession. But, after 1949 the bullocks were being taken in the procession along with idols of goddess Durga,said Saroj Kumar Sahoo,a member from Thoria community.
The festival has became a mass festival for the people of Bhuban now with each of the family and people of these community are involved in this festival, he added. Bhuban has 60 Sahis and has a population of about 24,000.
Bhuban is the birth place of Sahid Baji Rout where people celebrate dussehra and this bullock festival or balada yatra is the main attraction of the four day long festival.Heavy security arrangements were made to maintain law and order situation during the festival.
Related Art & Culture News
New Delhi, Oct 11:-- The world's biggest literary show, the Jaipur Literature Festival, returns to its cherished home - Jaipur. Scheduled to run from 19th- 23rd January, 2023 at Hotel Clarks, Amer, it will celebrate literature, books, and ideas in the Pink City. Marking its ....
---
Mumbai, Oct 7, (Fast Mail News):-- Isha Ambani today announced the opening of a first-of-its-kind space in the sphere of the arts, the Nita Mukesh Ambani Cultural Centre (NMACC), in Mumbai's Bandra Kurla Complex. Dedicated to her mother Nita M Ambani—an educationist, businesswoman, phila....
---
New Delhi, Sep 27, (Fast Mail News):-- The world's most charismatic literary show will be back in Jaipur in 2023. Today Teamwork Arts, the Festival producer, announced the dates for its 16th edition, setting them between 19 – 23 January 2023 at Hotel Clarks, Amer, Jaipur. The annual Jaip....
---
Q:- 1, Mr Pati why the public likes your creative canvas? Ans:- Because of my compositional arrangement techniques and colours scheme treatment on the canvas are the special attractions of my work. Q:-2- .How you got inspired towards art education ? Ans:- Very truly ....
---
ANGUL:After two years,the gala Biswakarma puja is being celebrated at Nalco township with great fervour and traditional gaiety.There are 17 pandals have been erected this year as against 25 idols worshipped in previous years. Thousands of people from far and wide have started thronging into Na....
---
© 2022 Fast Mail Media Pvt Ltd. All Rights Reserved.