Nalco Nagar decked to greet Lord Viswakarma
By Jagadananda Pradhan
ANGUL:Angul's Nalco Nagar has been decked up with colourful pandals and high rise gates being erected by various departments of Nalco for Vishwakarma Puja starting from Saturday,September 17. For this,Nalco employees have already started preparations here for the Viswakarma puja.
Nalco Nagar is famous for its Vishwakarma Puja with the rituals being observed for over five days. When Nalco was set up 40 years back here,the employees of both the Captive Power Plant and Smelter plant organise the celebration.The worship of Lord Vishwakarma ushers in the festive season in Nalco nagar.
Every year the Viswakarma puja is being celebrated with great enthusiasm.But the puja was not celebrated for past two years due to corona pandemic.As the celebration will be held after two years the puja committees of Nalco are celebrating the puja in a grand way this year.
Various puja committees have already installed huge puja pandals with illuminated gates.This year the entire Nalco township will give a Beautiful look with lights and decorations with high illuminated gates to come up everywhere.
Though each year puja was celebrated in 25 puja mandaps,this year as many as 17 puja pandals have been set up in the Nalco Nagar area costing each mandap(pandal) about Rs five lakhs to 10 lakh. Various department employees of Nalco are involved in this five days festival.
Deepak Kumar Singh,a Nalco employee of cast House-B, said various departments of Nalco are engaged in erecting gates and pandals in various designs. All puja pandals are decorated with themes from various mythological and modern subjects in the interior design of the mandaps".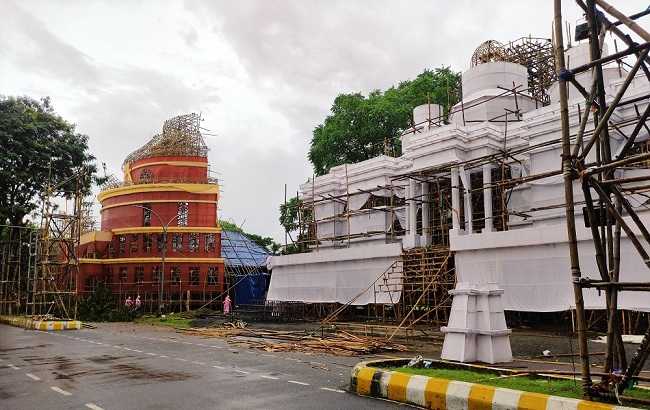 This year Cast House-A 's main gate will be a replica of the Indian parliament .Nalco Potline Puja Committee installed an illuminated gate with the theme of the temple.
Almost all puja committees have made their gates and pandals in various designs.
Each of the employees donate money for decoration and other arrangements during the festival.The employees deduct amount from their monthly salary for the celebration once in a year.
Prakash Behera,Secretary cast House-B Puja Committee told TOI,"We worship the divine architect, for safe conditions in the plant. Artisans, craftsmen, mechanics, welders,all officers and all other workers of both Captive Power Plant(CPP) and Smelter Plant offer prayers to Lord Vishwakarma to ensure smooth functioning of machine parts and their tools".
"The celebration here, for us, has become a tradition for us for over 40 years here.We strongly believe and faith with the Lord as protector of the plant and its employees.Now a days it has become a mass festival for us",Behera said.
Related Odisha News News
SAMBALPUR:A galaxy of experts from mining, metal and geological sciences congregated here at the National Seminar on "Challenges and Strategies in Coal Mining & Transformation to Industry 4.0" – To Meet Energy Needs of the Nation, organised by the Mining, Geological &....
---
By Jagadananda Pradhan ANGUL: In an attempt to position the Aam Aadmi Party in the political spectrum Nationwide, the Aam Aadmi Party (AAP) has decided to contest the upcoming polls in Odisha in 2024.The party will contest all the 147 assembly constituencies in Odisha in 2024,the AAP St....
---
By Jagadananda Pradhan TALCHER: Demands to carve a new district out of the Angul district with Talcher as its headquarters are gathering intensity today as Save Talcher Forum(STF) has threatened to launch an agitation if the demand for a separate district is not met with. The outfit has demand....
---
By Jagadananda Pradhan Fast Mail News TALCHER: A herd of 40 elephants have sneaked into four to five villages,about 2 to 3 kms from Talcher, situated on the bank of river Brahmani for last one week triggering panic among people. The herd prowled through village Kankili, Hariharpur and Kakudi area ....
---
SAMABLPUR:Mahanadi Coalfields Limited (MCL) has initiated a drive to reduce usage of "single-use plastic" by distributing jute bags in peripheral households motivating people to shun plastic bags and care for environment. In the first phase of this awareness campaign, MCL wil....
---
© 2022 Fast Mail Media Pvt Ltd. All Rights Reserved.