New train connecting from Talcher, Angul, Dhenkanal with Kolkata soon, says Dharmendra Pradhan
By Jagadananda Pradhan

ANGUL/DHENKANAL:
The Union Education Minister Dharmendra Pradhan announced that a new train Angul ,Talcher and Dhenkanal railway station with Kolkata soon.
The Union Education Minister Dharmendra Pradhan while visiting various rail way stations in both Angul and Dhenkanal districts on Sunday said that a new passenger line will be drawn linking Talcher station to Angul station. State government has been asked to give land for the railway track besides there will be three more railway lines to be linked to Talcher Angul for commercial purposes.Pradhan also announced that very soon
He said it was longstanding demand of locals to run the train.Pradhan has since left for Bhubaneswar after his last leg at Dhenkanal railway station.
The minister made an extensive tour of various railway stations situated in these two districts of Angul and Dhenkanal and reviewed the ongoing projects at the stations.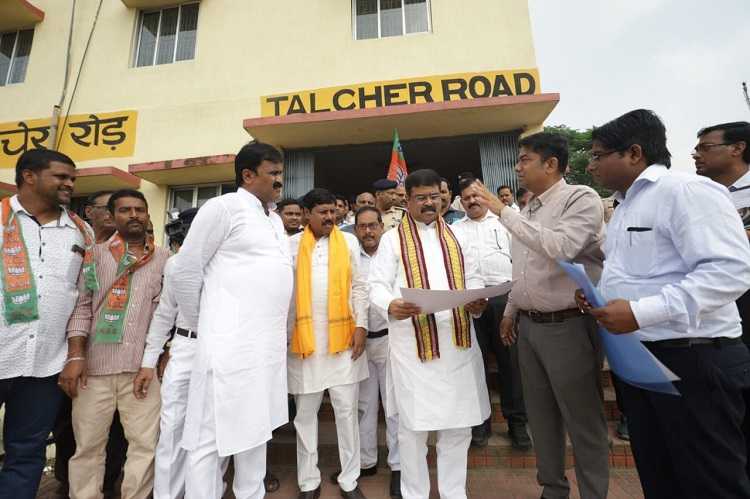 Pradhan was provided a special supervising railway train by the railway department to review to go to various stations and review the progress of the various projects approved by prime minister Narendra Modi and railway minister Aswini Vaishnav.
Accompanied by senior railway officers Pradhan reached at Talcher road station at 9oclock in the morning and saw the innovative works there. Then he proceeded t Angul railway station and then came back to Talcher station. Before he visited Sunakhani railway station. Pradhan then in afternoon proceeded on rail to Budhapanka railway station and then Joranda railway station.Then he visited Dhenkanal railway station and reviewed the ongoing developmental activities there.
Speaking to news men at Angul, Pradhan said that he had come on rail network to see the implementations of various projects worth of rupees 2,500 crore of developmental project at the stations located in Angul and Talcher and Dhenkanal districts.
He said this development projects include laying of double third and the fourth railway track besides renovation project at stations at Dhenkanal,Talcher road, Angul and Talcher .
Related Odisha News News
TALCHER:As the state government has announced separate district status for Padmapur, demands are raised in other parts of the state for the new district. Among the regions demanded for the separate district status, Talcher is one of them. In fact in 1993, there was an agitation at Talcher for ....
---
Fast Mail News ANGUL: A 72-years-old child specialist Pyarimohan Pradhan who was under-trial died last night in Angul district headquarter hospital. According to jailer Suchitra Das of Angul jail, since Pradhan came to Angul jail he was complaining chest pain, high-blood pressure and diabetes....
---
By Jagadananda Pradhan Fast Mail News JORONDA(Dhenkanal):--The union education minister Dharmendra Pradhan has urged both the Mahima sects of Kupunidhari and Bakaladhari to settle the dispute arising out of a disputed portion of land. The union minister visited Mahimagadi at Joranda and disc....
---
BARGARH:Chief Minister Naveen Patnaik is on a hectic campaign trail today for Odisha's Padmapur bylection . The chief minister is campaigning in favor of BJD candidate Rajan Singh Bariha. Chief Minister Patnaik arrived at Sativata Airstrip near Padmapur. Later, he addressed the public me....
---
TALCHER:Strong resentment is brewing among the people of Talcher here over the statement by the health minister that there would be delay in the functioning of Talcher Medical college. Reacting to the statement of the state health minister Talcher Medical College Kriyanusthan Committee h....
---
© 2022 Fast Mail Media Pvt Ltd. All Rights Reserved.