Wednesday 1st of December 2021
3 killed, 8 wounded in Michigan high school shooting
(FM) -Three teenagers were killed and eight other people wounded in a shooting on Tuesday at Oxford High School in suburban Oakland County, about 45 miles north of Detroit, Michigan.
The three killed were a 16-year-old boy and two girls aged 14 and 17. The eight wounded, including a teacher, have been taken to hospital. Two are currently in surgery and the other six are in stable condition with gunshot wounds, Undersheriff Michael G. McCabe told a news conference.
The suspect, a 15-year-old sophomore at Oxford High School, is currently in custody. His parentshave hired an attorney and have not permitted him to talk to police.
Related U.S. News News
Washington,FASTMAIL -The United States strongly condemns the violent crackdown by security forces against peaceful protesters on November 17, which resulted in at least 15 deaths and scores of injuries. We express our condolences to the families of those who lost their lives. This ....
---
WASHINGTON:The United States has designated several nations, including Pakistan, China, Iran, North Korea and Myanmar as countries of particular concern for violation of religious freedom. US Secretary of State Antony Blinken also announced to place Algeria, Comoros, Cuba, and Nicaragua on a S....
---
Washington,FASTMAIL - The United States is deeply concerned about reports?of intensive fighting today between Armenia and Azerbaijan.?We urge both sides to take immediate concrete steps to reduce tensions and avoid further escalation. ?We also call on the sides to engage directly and construct....
---
Washington,FASTMAIL -Deputy Secretary of State Wendy R. Sherman met with German Minister of State Niels Annen today in Washington, D.C. Deputy Secretary Sherman and Minister of State Annen emphasized the importance of the U.S.-German and Transatlantic relationship to global security and ....
---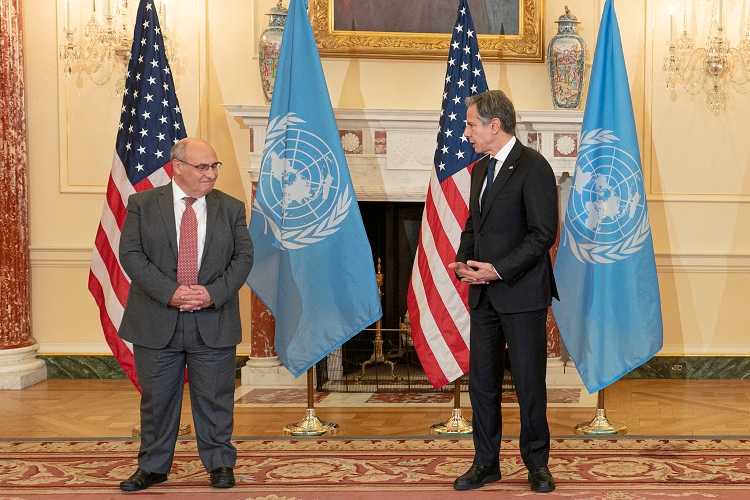 Washington,FASTMAIL -Secretary Blinken met with Director General António Vitorino and the two new Deputy Directors General Amy Pope and Ugochi Daniels today in Washington, D.C. Secretary Blinken congratulated the Director General on IOM's upcoming 70th anniversary and welcom....
---
© 2021 Fast Mail Media Pvt Ltd. All Rights Reserved.