At least 23 killed in attacks in central Nigeria: official
Abuja, Apr 13:-- At least 23 people have been killed in armed attacks on two communities in central Nigeria's Benue state on Monday, a state official said on Tuesday.
Gunmen invaded on Monday night two communities of the state, the Mbadwem community in Guma local government area and the Tiortyu community in Tarka local government area, respectively, killing no fewer than 23 persons, said Nathaniel Ikyur, a spokesperson for the Benue state governor in a statement on Tuesday.
Ikyur said many villagers were injured during the attacks and are currently receiving treatment in a hospital of the state.
Related Africa News
Cape tOWN, jAN,17, 2022:-- South Africa recorded 2 597 new COVID-19 cases on Sunday, pushing the total number of laboratory-confirmed infections to 3 559 230 since the outbreak. The majority of new cases today are from Western Cape after 721 people tested positive, followed by 602 in Ga....
---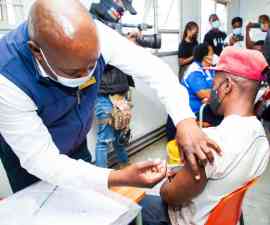 (FASTMAIL) - SA Health Minister, Dr Joe Phaahla, has urged citizens to not let their guard down and vaccinate as the number of new COVID-19 infections is on the rise. South Africa recorded 11 535 new Coronavirus cases in the past 24 hours compared to the 2 465 that was recorded on T....
---
(FASTMAIL) -The number of unemployed South Africans rose by 0.5% in the third quarter (Q3) of 2021, Statistician-General Risenga Maluleke has announced. The rise saw the country's unemployment reach 34.9%. Releasing the Quarterly Labour Force Survey (QLFS) for the last quarte....
---
(FASTMAIL) -Health Minister, Dr Joe Phaahla, has reiterated the President's call for South Africans to keep calm amid the latest variant, Omicron. "There is just no basis for some of the leaders of countries which have imposed these restrictions on travelling for us in South ....
---
Juba,SOUTH SUDAN- South Sudan's president dismissed the country's finance and interior ministers on Friday. Athian Diing Athian has been replaced by Agak Achuil as the new finance minister, while Mahmoud Solomon will take over from Paul Mayom Akech as interior minister, accor....
---
© 2022 Fast Mail Media Pvt Ltd. All Rights Reserved.