PM Modi says,'We removed Paribarbad from sports', people ask – what do you think about Jai Shah?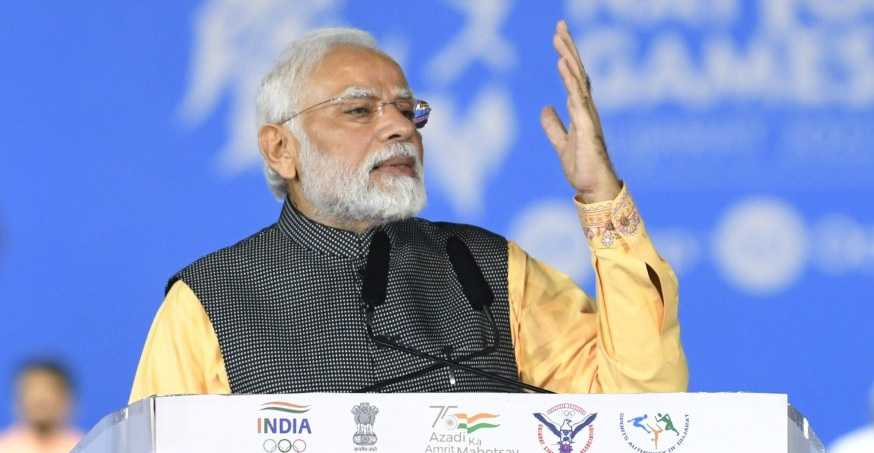 BHAVNAGAR(Gujarat):--Prime Minister Narendra Modi reached the Narendra Modi Stadium in Ahmedabad, Gujarat on Thursday today where he inaugurated the 36th National Games.On the occasion, Modi said that this historical palace is beyond words. It is the beginning for the future of the game world. Targeting the previous governments, he also said that we have ended 'Paribarbadin sports.
How ever,to the statement of PM Modi social media users started giving reactions to this statement of the prime minister.
Addressing the public meeting,the Prime Minister said that India had the ability to show the potential of sports in the country even earlier. This conquest could have been started earlier also but the practicality which should have been in the games. It was replaced by nepotism and corruption. Along with this, he also said that we also cleaned it and also expressed a belief in sports among the youth.
Related India News
New Delhi, Sep 29, (Fast Mail News):-- Rajnath Singh visited the forward areas of 3 Corps in Anini, a village in Dibang valley of Arunachal Pradesh on September 29, 2022. He made an on-the-ground assessment of the country's defence preparedness along the LAC by taking stock of the entire gamut....
---
New Delhi, Sep 29:-- President Droupadi Murmu said India has emerged on the world stage with a new self-confidence and that they are looking at our country with new admiration. Addressing a group of officer trainees of the Indian Foreign Service (2021 batch), who had called on her at the Rashtrapati....
---
New Delhi, Sep 29, (Fast Mail News):-- A group of Officer Trainees of Indian Foreign Service (2021 batch) called on the President of India, Smt Droupadi Murmu, at Rashtrapati Bhavan today (September 29, 2022). Addressing the Officers Trainees, the President said that it is going to be all th....
---
New Delhi, Sep 29:-- External Affairs Minister Dr S Jaishankar has said that India strives to have a relationship with China that is built on mutual sensitivity, respect and interest. He also asserted that the improvement and strengthening of the Indo-Pacific is a shared goal of New Delhi and Washin....
---
New Delhi, Sep 29:-- Prime Minister Narendra Modi has said that after the completion of the ambitious DREAM city project, Surat city will emerge as one of the safest and most convenient diamond trading hubs in the world. The PM was addressing a gathering after inaugurating and laying the foun....
---
© 2022 Fast Mail Media Pvt Ltd. All Rights Reserved.