Gautam Adani no longer even in top 20 richest people, fallen sharply from $124 billion on 17 Jan to $61.3 billion
jpradhan@efastmail.in
Gautam Adani's troubles are not seizing after the Hindenburg report, the shares of Gautam Adani's companies are continuously falling. Shares of Adani Enterprise Limited, the most prestigious and flagship company of Adani Group, fell up to 35% on Friday . If we look at the data of the National Stock Exchange (NSE), after the Hindenburg report came out, till February 2, a total of 9.22 lakh crore rupees of 9 companies of Adani Group were sunk. Adani Enterprises and Adani Total Gas have suffered the most.
The total valuation of 9 companies of Adani Group has now reduced to Rs 10.41 lakh crore in the stock market. Till a month ago December 30, their market cap was Rs 19.63 lakh crore. Adani Enterprises and Adani Total Gas, two such companies, account for almost half of the total losses.
The total valuation of Adani Enterprises as on 30 December 2022 was Rs 4.40 lakh crore, which has now come down to just Rs 1.78 lakh crore. Similarly, the valuation of Adani Total Gas was Rs 4.06 lakh crore, which now remains at Rs 1.88 lakh crore.
Company Valuation as on 30 December 2022 Valuation as on 2 February 2022
Adani Enterprises 4.40 lakh crore 1.78 lakh crore
Adani Total Gas 4.06 Lakh Crore 1.88 Lakh Crore
Adani Green Energy 3.06 lakh crore 1.64 lakh crore
Adani Transmission 2.89 Lakh Crore 1.74 Lakh Crore
Adani Ports & SEZ 1.77 Lakh Crore 1.00 Lakh Crore
Adani Power Limited 1.16 Lakh Crore 0.78 Lakh Crore
Ambuja Cement 1.04 Lakh Crore 0.70 Lakh Crore
Adani Wilmar Limited 0.80 lakh crore 0.55 lakh crore
ACC Limited 0.46 lakh crore 0.35 lakh crore
Related India News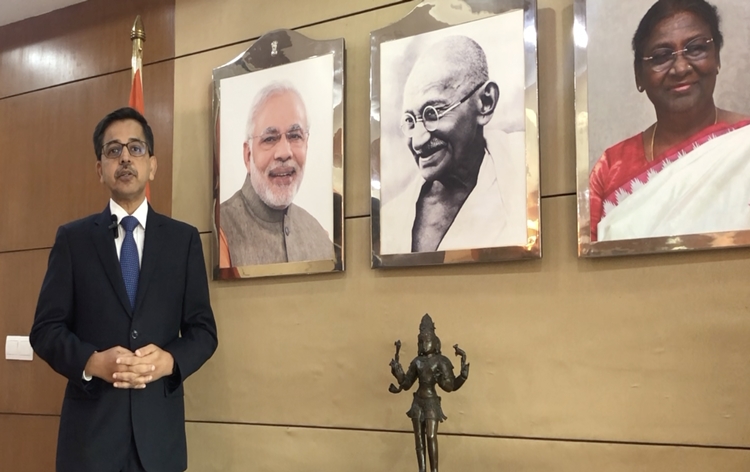 Ganga Vilas river cruise is a momentous development that shows the power of the river systems to connect India and Bangladesh and its people, says the High Commissioner of India to Bangladesh Pranay Verma. Ganga Vilas, the world's longest river cruise of over 3200 kilometres, is set to a....
---
Around three lakh cases in High Courts and over 6 lakh 71 thousand cases in District and Subordinate Courts are pending for more than 20 years. This was informed by Law and Justice Minister Kiren Rijiju in a written reply in the Lok Sabha quoting data retrieved from the Integrated Case Managem....
---
Information and Broadcasting Minister Anurag Singh Thakur has said that financial inclusion is important for achieving the economic empowerment of women. Mr Thakur said this at a Conclave for the proactive well-being of Young Women organised by the FICCI Ladies Organization in New Delhi. &nbsp....
---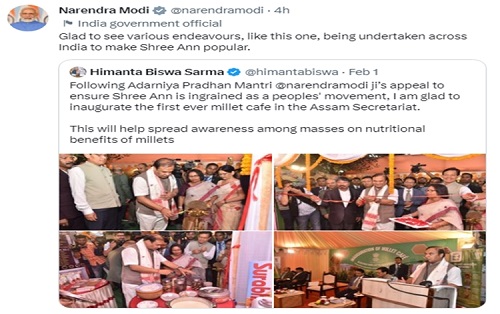 Prime Minister Narendra Modi has lauded endeavours being undertaken across India to make Shree Ann popular. He was reacting to the Assam Chief Minister Himanta Biswa Sarma tweet about the inauguration of a
---
Electioneering is intensifying in poll-bound Tripura. The frontline campaigners of the BJP which includes the party's national president J.P. Nadda will address election rallies at Amarpur and Pabiacherra. Apart from Mr. Nadda, another campaigner, Union Minister Smriti Irani will also address ....
---
© 2023 Fast Mail Media Pvt Ltd. All Rights Reserved.