Thursday 28th of October 2021
Rajnath Singh addresses the senior leadership of Indian army
(FASTMAIL) -The Army Commanders' Conference, an apex level biannual event, is being held in New Delhi from 25 to 28 October 2021. During the event, Indian Army's apex leadership is comprehensively deliberating upon all aspects of existing security scenarios, situation along the borders and in the hinterland and challenges for the present security apparatus. In addition, the conference is also focusing on issues pertaining to organisational restructuring, logistics, administration and human resource management. The main highlight of the third day of the conference was the address by the Raksha Mantri, Rajnath Singh, to the senior leadership of the Indian Army preceded by a brief on the present and future plans of the Indian Army.

The Raksha Mantri reaffirmed the faith of the billion-plus citizens on the Indian Army as one of the most trusted and inspiring organisations in the country. He reiterated the stellar role played by the Army in guarding our borders and fighting terrorism apart from providing assistance to the civil administration whenever called for.

He also appreciated the role played by Indian Armed Forces in the ongoing fight against COVID-19. The Raksha Mantri also remarked "The Army is omnipresent in all domains from Security, HADR, Medical Assistance to maintaining the stable internal situation in the country. The role of Indian Army is very important in Nation building as also in the overall national development".
Related India News
Talcher,FASTMAIL - When the nation is facing unforeseen coal shortage in power plants the union coal minister Pralhad Joshi is making five-hour long visit to Talcher Coalfield which accounts for more than 60 per cent coal production of Mahanadi Coalfield Limited, the flagship company of Coal I....
---
NEW DELHI:Prime Minister Narendra Modi will attend the 16th East Asia Summit today which will be held virtually. The East Asia Summit is the premier leaders-led forum in the Indo-Pacific. Since its inception in 2005, it has played a significant role in the strategic and geopolitical evolution ....
---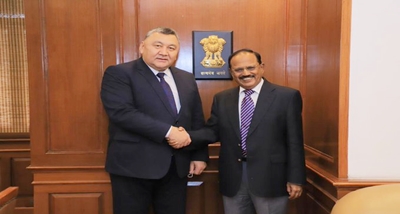 NEW DELHI:The first India-Kyrgyzstan Strategic Dialogue between the National Security Council Secretariats was held yesterday in New Delhi. The Indian side was led by National Security Adviser Ajit Doval and the Kyrgyz side was led by Secretary of Security Council Lieutenant General Marat Iman....
---
New Delhi,FASTMAIL - Prime Minister Narendra Modi on his visit to Uttar Pradeshon 25th October, 2021 inaugurated a new state of the art Sewage Treatment Plant of 10 MLD Capacity in Ramnagar, Varanasi. The Government is working on all fronts simultaneously for conservation and rejuvenation of r....
---
New Delhi, 26 October (FASTMAIL) - The winter session of Parliament is likely to take place next month between November 29 and December 23. According to sources close to the Ministry of Parliamentary Affairs, the winter session will run from November 29 to December 23. Many important bills wil....
---
© 2021 Fast Mail Media Pvt Ltd. All Rights Reserved.