Tuesday 3rd of August 2021
Tribal Artisan Day celebrated at the Tribes India Aadi Mahotsav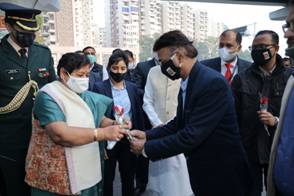 (Fast Mail News) -
It was a busy Sunday at the Aadi Mahotsav on at Dilli Haat as crowds thronged to enjoy a window into rich tribal arts and crafts. The main focus was the wide variety of tribal arts and handicrafts being showcased in the fortnight-long festival that celebrates the spirit of tribal crafts, culture, and cuisine.
With about 200 stalls from across India, the Aadi Mahotsav is a mini-India where the exquisite craft traditions of tribal artisans – weavers, potters, puppeteers, and embroiders – are all in one place. Visitors can take their pick from a wide range of artefacts like paintings be it in the Warli style or Patachitras; jewellery handcrafted in the Dokra style to bead necklaces from the Wancho and Konyak tribes of the North-East to the rich and vibrant textiles and silks, namely; from colourful puppets and children's toys to traditional weaves such as Dongria shawls and Bodo weaves; iron craft from Bastar to bamboo craft and cane furniture; pottery such as blue pottery and the famed Longpi pottery.
The event also saw the visit by some senior dignitaries. Shri Bhaskar Khulbe, Advisor to the Prime Minister visited the Aadi Mahotsav and took a keen interest in the stalls and their wares, including the demo Van Dhan centre installed. In particular, he was very interested in the stall where the 50 tribal GI products have been showcased. "I am pleased to note that TRIFED has actively taken up the cause to promote GI Tagged products and transform into a brand, thus empowering tribal artisans. This Aadi Mahotsav is an excellent way to bring all tribal artisans from across the country in a single place." Shri Khulbe commented as he appreciated the stalls.
Ms. Anusuiya Uikey, the Governor of Chhattisgarh visited the Aadi Mahotsav earlier in the day and went to all the stalls, especially ones where Chhattisgarh art and handicrafts are on display. She was welcomed by Shri Ramesh Chand Meena, Chairman, TRIFED and Shri Pravir Krishna, Managing Director, TRIFED. Speaking on the occasion, she commented, "I am very happy that TRIFED has taken this unique initiative which helps provide a wider exposure to the tribal artisans to the next level. I have been associated with TRIFED now for a while and it brings me joy to see Chhattisgarh art and artisans getting a prominent place here."
A group of people posing for a photoDescription automatically generated with medium confidence A group of people posing for a photoDescription automatically generated
Related Entertainment News
(Fast Mail News) - Union Minister Prakash Javadekar today released a standard operating procedure on preventive measures to contain spread of COVID-19 for cinema halls and theatres. Announcing the decision the Minister said now Cinema halls can operate with full capacity. He added that s....
---
(FastMail) -The 51st edition of the International Film Festival of India, Goa has conferred Biswajit Chatterjee, veteran actor, producer, director and singer of Hindi and Bengali cinema, with the Indian Personality of the Year Award. The Award has been announced at the opening ceremony o....
---
PANAJI:51st International Film Festival of India (IFFI) will open on 16th January, with the Indian premiere of the movie 'Another Round' by Thomas Vinterberg. The movie starring Cannes Best Actor Award winner Mads Mikkelsen is among a star-studded line up of movies being sh....
---
Mumbai, Dec 27 : Superstar Salman Khan on Sunday turned a year older but the actor decided to go low-key for his 55th birthday celebrations considering the "terrible year" 2020 has been due to the coronavirus pandemic. Khan, who is spending his birthday with his family and cl....
---
Mumbai, Dec 22: Actor Amber Heard says it was great to play a "complex and nuanced" character like Nadine Cross in the latest screen adaptation of author Stephen King's book "The Stand". The series, based on King's 1978 novel of the same name, follows a story of a g....
---
© 2021 Fast Mail Media Pvt Ltd. All Rights Reserved.