Friday 21st of January 2022
Swayamsiddha Ladies Club, NTPC CMHQ felicitated Associates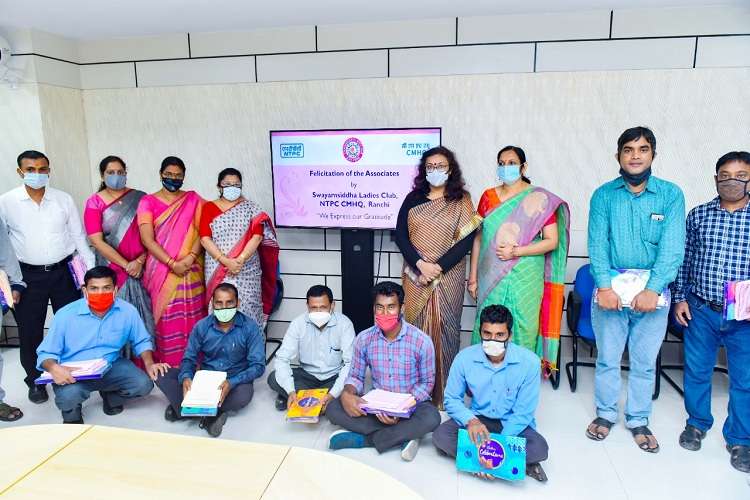 Swayamsiddha Ladies Club, NTPC Coal Mining Headquarter (CMHQ), Ranchi felicitated all associates on 18.10.2021 at CMHQ office for their invaluable contribution in execution of their official duty especially during ongoing COVID Pandemic. The associates felicitated were housekeeping staff, horticulture staff, guards, attendants, ICH staff, etc.
Related Life Style News
(FASTMAIL - Film actress Anushka Sharma is currently trending on social media because of one of her posts in which she has thanked the paparazzi. It was only after the birth of star kid Vamika that Anushka and Virat appealed to the paparazzi and the rest of the media that they wanted privacy f....
---
(FASTMAIL)- Saif Ali Khan and Kareena Kapoor Khan's elder son Taimur, popularly known as Saifina in Bollywood, has turned five today. On this special occasion, Kareena Kapoor Khan has shared an unseen and cute video of her son on Instagram and wished him a happy birthday. In the vi....
---
Chennai, Dec 10, 2021: Piramal Realty, the real estate arm of Piramal Group, announced Farhan Akhtar as its new brand ambassador. The charismatic celebrity has joined Rahul Dravid to be the face for Piramal Realty's portfolio of projects in the Mumbai Metropolitan Region consisting of Pi....
---
New Delhi,FASTMAIL - With the drop in temperature around December and rise in the holiday spirit, SteppinOut by Dineout announces the launch of the biggest Christmas night market - Christmas Wonderland - across India starting 4th of December, 2021. These open-air Christmas themed night markets....
---
Panaji, 28 Nov(FASTMAIL) - As the 52nd edition of the International Film Festival of India comes to a close, the Union Information and Broadcasting Minister Anurag Singh Thakur has reiterated the Government of India's commitment to the promotion and cultivation of the finest f....
---
© 2022 Fast Mail Media Pvt Ltd. All Rights Reserved.