Lalu Yadav's bail plea from Jharkhand High Court postponed
Ranchi, 1st April(FAST MAIL) -
Fodder scam convict Lalu Prasad Yadav has been disappointed as the bail plea could not be heard on Friday. The matter was listed for hearing in the court of Justice Aparesh Singh of Jharkhand High Court on the bail plea of ??Lalu Yadav.
The last hearing on the bail plea was held on March 11. While fixing the date of April 1 for the next hearing, the court had asked the CBI to give a report in the matter. Now Lalu Yadav's bail plea will be heard next week. During the last hearing, the court had directed to call for records (LCR) from the CBI court in this case. About 65 trunk documents of the fodder scam have been sent to the High Court. On the next hearing, the issue of grant of bail by Lalu Prasad will be debated.
Related Bihar News
Bettiah, February 14 (FASTMAIL) - In Bihar, five people, including two children, died after being hit by an uncontrolled vehicle in Bettiah Mufassil and Shikarpur police station areas of Bettiah police district. The incident happened on Monday morning. Deputy Superintendent of Bettiah Medical ....
---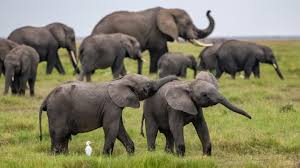 Hazaribagh, 20 December (H.S.). Three members of the same family,including mother,son and daughter were trampled to death by ay a herd of elephants in Itej village of Kandaber panchayat of the district. Three people were injured in the attack, who have been admitted to the Sadar Ho....
---
Patna, 11 November (FASTMAIL) - Four people, including three children, have died due to drowning in Lakhisarai, Purnia and Araria during Chhat puja festival. Two children died in Narpatganj of Araria and one in Lakhisarai while one died in Purnia due to drowning. The first incident has taken p....
---
PATNA:In Bihar, flood waters have engulfed new areas in Nalanda and Gaya districts following breach in embankment. Surging waters of river Sone has entered low lying areas of Rohtas district. Several villages have been inundated. Standing crops spread over 20 lakh hectares have been dama....
---
PATNA:Bihar government has issued guidelines for opening of educational institutions in the state from January 4. Schools from Class 9th onwards, colleges and coaching institutes are permitted to allow only 50 percent of students. They have been asked to call students in batches on alternative....
---
© 2022 Fast Mail Media Pvt Ltd. All Rights Reserved.