Thursday 26th of November 2020
COVID-19 recovery rate improves to 96.08 pct in Bihar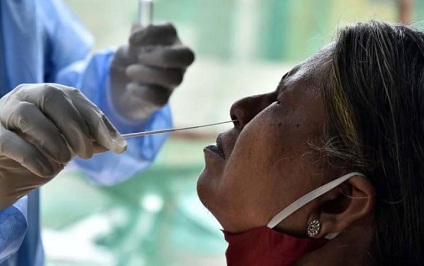 Patna, Nov 02:-- In Bihar, COVID-19 recovery rate has improved to 96.08 percent. This is 4.54 percent more than the national average. The number of active cases in the state is continuously declining.
Currently 7 thousand 437 patients are undergoing treatment at various hospitals. 1194 patients have recovered in the last 24 hours, while 777 new cases were reported. Over two lakh nine thousand six patients have so far recovered from the infection in the state.
Related Bihar News
Chapra, 29 October:-- The ex deputy chief minister Tejasvi Yadav said that if his government came to power, he would regularise the services of Anganbadi and Jeevika Didis and double their remuneartion. He was addressing a political rally organised at YDBS college at Taraiya. He further said t....
---
Chapra, 28 October :-- One common scathing attack on Nitish Kumar by opposition political leaders invariably is the issue of unemployment in Bihar. After Tejasvi Yadav, LJP leader Chirag Paswan also said at Ekma today that he would create ample opportunities in the state and Biharis so that ....
---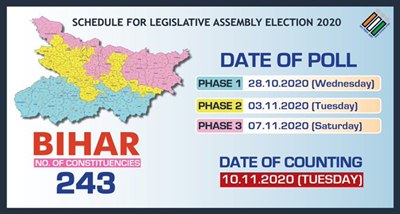 Patna, Oct 24:-- Bihar government has suspended two district Excise Superintendents and transferred four district Excise Superintendents with immediate effect following instruction of Election Commission. Arwal district Excise Superintendent Nitin Kumar and Sheikhpura district Excise S....
---
Patna, Sept 4 (HS) Jitan Ram Manjhi's party Hindustani Awam Morcha (HAM) thtough decided to desert maha gathbandhan but yet to join the NDA but the party has started challenging Ram Vilas Paswan's Lok Janashakti Party (LJP). The HAM has warned LJP not to utter a word agains....
---
Chapra/Gopalganj, September 4 (HS) Chief minister Nitish Kumar today via video conferencing instructed officials to dispose of pending cases related to schedule castes and schedule tribes. He asked them to undertake a campaign for this purpose. JDU MP Dr. Suman Alok complained that police stat....
---
© 2020 Fast Mail Media Pvt Ltd. All Rights Reserved.