Talcher bids fare well to Lord Ganesh, Laddu auctioned for Rs 8lakh,70,000
By Jagadananda Pradhan
Fast Mail News

TALCHER:--
Thousands of people thronged the coal city of Talcher on Sunday, as the annual extravaganza-the centralized Ganesh idol immersion procession was taken out marked by revelry, religious fervor on Sunday .Though Ganesh puja was celebrated at 70 puja pandals,about 26 puja medhas gathered at Mellana ground to participate in the immersion ceremony.
The tastefully decorated trucks and other vehicles carrying the idols inched their way through a literal sea of humanity. The procession wended its way from Bada Danda Sahi through Ananta Ram Gate, to Brahmani river amid slogan of Jai Ganesh Jai Gajanana.

The main procession started at around 11 am after completion of the auction of the Ganesh Laddu. The auction started today with five puja committees participating in the bidding for the Laddu. After a keen contest, Lal bagh puja commte quoted Rs 8lakh70,000 and became the successful bidder.

The competition for the bidding increased now a days due to the belief that the Laddu holds health, wealth and prosperity for the bidder.

The deputy speaker rajanikanta Singh gave away the Laddu to the winner in a special stage built for the auctioning of Laddu.
Related Bihar News
Patna, June 08 (FMNews) --About 45 people fell sick due to vomiting and diarrhea after eating food during Tilak ceremony late on Tuesday night in Orani village under Goh block of Aurangabad district in Bihar. The condition of about 15 of them is said to be critical. All are admitted at Goh PHC for t....
---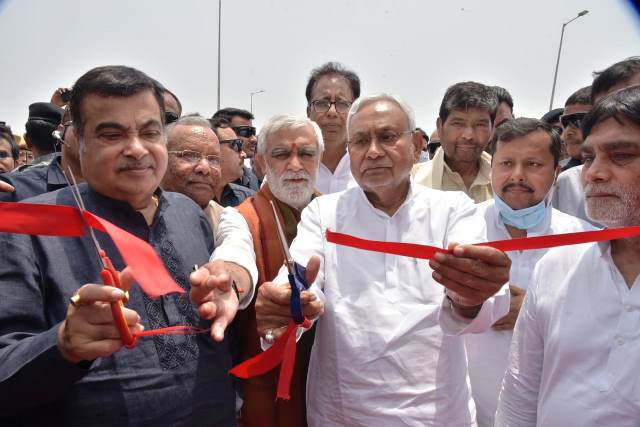 Patna, 07 June (Fast Mail) - Union Road Transport and Highways Minister Nitin Gadkari on Tuesday inaugurated the eastern lane of the six-km-long Mahatma Gandhi Setu connecting North Bihar with the capital Patna. Many NDA leaders including Chief Minister Nitish Kumar, Deputy CM Tarkishore and Renu De....
---
Patna, 07 June (Fast Mail) - In Bihar, a speeding Brezza car rammed seven people on Tuesday morning in front of Vedanta Public School of Bahuarva in Chautarwa police station area of ??Bagaha in West Champaran district.A woman and two children died on the spot. The condition of four children is criti....
---
Ranchi, 1st April(FAST MAIL) - Fodder scam convict Lalu Prasad Yadav has been disappointed as the bail plea could not be heard on Friday. The matter was listed for hearing in the court of Justice Aparesh Singh of Jharkhand High Court on the bail plea of ??Lalu Yadav. The last hearing on the ba....
---
Saharsa, 30 March(FAST MAIL) - Jaikant Kumar (20), son of Govardhan Yadav, a resident of Baghel Tola of Khajuraha village of Sonvarsharaj police station area of ??the district, was shot by criminals at around 2.30 pm on Tuesday.
---
© 2022 Fast Mail Media Pvt Ltd. All Rights Reserved.