Wednesday 12th of May 2021
Bihar issues guidelines for opening of educational institutions from January 4
PATNA:Bihar government has issued guidelines for opening of educational institutions in the state from January 4. Schools from Class 9th onwards, colleges and coaching institutes are permitted to allow only 50 percent of students. They have been asked to call students in batches on alternative days.
Principal Secretary Education Sanjay Kumar said students will be allowed to attend the physical classes only after the written consent of their parents or guardians. The educational institutions have to make arrangements for online classes for those who do not wish to attend the physical classes. All educational institutions are facing closure since March 15 owing to nationwide lockdown triggered by Covid-19.
Related Bihar News
Ara, 31 October (Fast Mail) – Gang war between two groups was behind the shooting of Prince Singh Bajrangi and his friend property dealer Mithun Singh, the national secretary of Yuva Janata Dal United, on 28 September in Jagadevanagar of Ara urban area of ??Bhojpur district. And the matt....
---
Chapra, 29 October:-- The ex deputy chief minister Tejasvi Yadav said that if his government came to power, he would regularise the services of Anganbadi and Jeevika Didis and double their remuneartion. He was addressing a political rally organised at YDBS college at Taraiya. He further said t....
---
Chapra, 28 October :-- One common scathing attack on Nitish Kumar by opposition political leaders invariably is the issue of unemployment in Bihar. After Tejasvi Yadav, LJP leader Chirag Paswan also said at Ekma today that he would create ample opportunities in the state and Biharis so that ....
---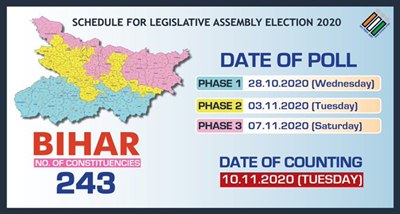 Patna, Oct 24:-- Bihar government has suspended two district Excise Superintendents and transferred four district Excise Superintendents with immediate effect following instruction of Election Commission. Arwal district Excise Superintendent Nitin Kumar and Sheikhpura district Excise S....
---
Patna, Sept 4 (HS) Jitan Ram Manjhi's party Hindustani Awam Morcha (HAM) thtough decided to desert maha gathbandhan but yet to join the NDA but the party has started challenging Ram Vilas Paswan's Lok Janashakti Party (LJP). The HAM has warned LJP not to utter a word agains....
---
© 2021 Fast Mail Media Pvt Ltd. All Rights Reserved.