Saturday 4th of July 2020
Mass burial of infected bodies in Ballari sparks anger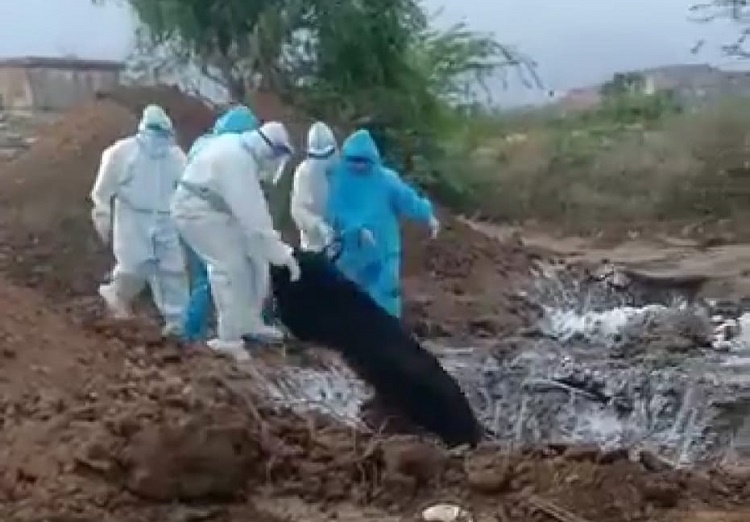 Ballari, June. 30. ;There was widespread shock and anger against the Ballari district administrations for negligence and disrespect in the cremation of Covid-19 infected bodies at the designated graveyard of Guggarahatti village on Monday.
Reports said that nine Corona patients who died on Monday at VIMS and District hospital of multiple organ failure and with medical history of comorbidities, were cremated without the bodies being disinfected and covered properly.
Related Karnataka News
Bengaluru,15 April(HS): The state government today gave a go-ahead for Ayurvedic treatment to victims being infected with Coronavirus. BS Yediyurappa, Chief Minister today summoned Dr Giridhar Kaje, a renowned city-based Ayurvedic practitioner and informed him of the state government's....
---
Bengaluru,13 April(HS): Veteran Congress leader, former Union Minister MV Rajasekharan passed away in the city this morning due to multi organs failure. He was 92 years old and was being treated at a private hospital here since quite some time.
---
Bengaluru, 09 March : The State Assembly Speaker, Vishveshwara Hegde Kageri, has banned entry of media persons to both lobbies of the Assembly. It may be recollected here that the Speaker has already barred the private TV channel camera crew from covering the proceedings of both ....
---
Bengaluru,09 March: The first confirmed Corona virus infection case has been reported from the city. A software professional who returned from the United States on 01 March is said to be the person infected from the deadly disease. The infection came to light today when he reported to ....
---
© 2020 Fast Mail Media Pvt Ltd. All Rights Reserved.