Lumpy skin disease (LSD) outbreaks in cattle in Karnataka's Ballari district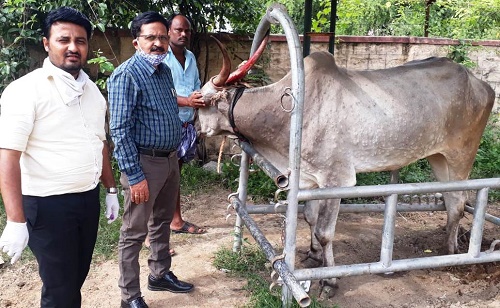 Ballari, Sept 02 (HS) More than 310 cows infected by Lumpy skin disease (LSD) in Siruguppa taluk of Ballari district, in Karnataka, experts were rushed to the villages to educate farmers about its treatment.
The virus was found at Akkatangirahal, Raravi, Hatcholli, and other villages of the Siruguppa taluk, which are located in Karnataka - Andhra Pradesh border, showing swift in spreading in the cows and its Calfs.
Deputy Director of Animal husbandry at Ballari, Dr. B.L. Parameswara visited the villages, watched the infected cows - calfs addressed the farmers and the villagers about its treatment, symptoms, isolating of the infected animals, maintaining the hygienic, etc on Wednesday.
Dr. B.L. Parameswara Naik said, "Lumpi Skin never spreads to humans, there is no threat of infection. Farmers can give treatment to the animals as per the doctor's advice."
Related Karnataka News
Ballari, Aug 07: A newly married man committed suicide by hanging on a tree on the outskirts of the village on Thursday on the issue of cooking. Sharan (28), a resident of Huralihal village in Kudligi taluk of Ballari district, was married four months ago. He lived with his parents and wife. ....
---
Ballari, August 06,: Ballari District reported 431 new Covid-19 cases on Thursday. The information was shared by Deputy Commissioner SS Nakul through a release. Till now 8,952 cases have been reported. On Thursday 429 people were discharged from various hospitals of the dis....
---
Ballari, August 04:-- Father and son duo drowned in an agricultural water pond at Chelgurki Village In Ballari talk on Monday. Reports said Siddlingappa, 51, and his son 14 year old son Darshan had gone to fields for agriculture works. While returning, Darshan felt thirsty and wen....
---
Ballari, 1 August (HS)A 28-year-old bike rider died in a road accident on Friday night in Ballari, while the person sitting on the bike suffered serious injuries after which he was admitted to the hospital. The accident happened after the bike hit the road divider. It is worth mentioning that....
---
Ballari, July 30:-- As many as six students, who have tested COVID-19 positive, will write the Karnataka Common Entrance Test at Dental College, Ballari on Thursday. Deputy Commissioner S.S. Nakul said in a press release on Thursday, "All six COVID-19 positive students will arrive at th....
---
© 2022 Fast Mail Media Pvt Ltd. All Rights Reserved.