Thursday 28th of October 2021
Centre allocates Rs.3,691 Crore grants to Tamil Nadu under Jal Jeevan Mission to make provision of tap water supply to every home
CHENNAI:To translate Prime Ministeri Narendra Modi's vision of providing clean tap water to every household, Union government has increased the Central grant to Tamil Nadu under the Jal Jeevan Mission in the year 2021-22 to Rs 3,691.21 Crore, which was Rs 921.99 Crore in 2020-21. National Jal Jeevan Mission, Ministry of Jal Shakti has also released Rs. 614.35 Crores to the State as first tranche. Union Minister, Jal Shakti, Shri Gajendra Singh Shekhawat while approving this four-fold increase in allocation has assured full assistance to the State for making provision of tap water supply in every rural home by 2024.
In Tamil Nadu, out of a total of 1.26 Crore households, 40.36lakh households (31.80%) have been provided with tap water connections. On 15th August 2019, at the time of launch of Jal Jeevan Mission, only 21.65 lakh (17.06%) households had tap water supply. In 22 months,18.70 lakh(14.74%) households in the State have been provided tap water connections.
Thus, in Tamil Nadu there are still 86.53 lakh households without tap water supply. With the present pace of 16.13 lakh households (in 2020-21), it is a huge task to be accomplished in next three years. To achieve this by 2024, the State needs to increase its pace of providing tap water supply to rural households by 179%.
The State Government is yet to finalize and present its Annual Action Plan (2021-22) to achieve the goal of ensuring tap water to every rural household. National Jal Jeevan Mission (NJJM), Ministry of Jal Shakti, Government of India has asked the State Government to finalize Annual Action Plan for the year 2021-22 without any further delay, and present the same as first quarter of the financial year is coming to an end.
Urging the State to accelerate the pace of implementation and emphasizing the work of providing tap connections should start in all the villages so that Tamil Nadu can provide tap water supply to every household by 2024, Union Minister, Jal Shakti, Shri Gajendra Singh Shekhawat has written a letter to the Chief Minister of Tamil Nadu.
In 2020-21, Rs.921.99Crore Central grant was allocated to Tamil Nadu but the State could draw only Rs. 544.51 Crore, and surrendered Rs. 377.48 Crore meant for tap water supply in rural areas of the State. This year with four-fold increase in Central allocation (Rs 3,691.21 crore), unspent balance of Rs.377.48 Crore and short fall of Rs. 290.79 Crore in State matching share in 2020-21, and matching State's share in this year, Tamil Nadu has an assured availability of Rs. 8,428.17 Crore under Jal Jeevan Mission for water supply work in 2021-22. Thus, there is no shortage of fund availability. In his letter to the Chief Minister, Tamil Nadu, the Union Minister has hoped that this enhanced allocation will enable the State to achieve various planned activities under Jal Jeevan Mission to provide tap water connection to every household in rural areas.
Related Tamil Nadu News
Tamil Nadu: Chennai, Nov 2:-- Railway Protection Force (RPF) unit of Southern Railway rose to the occasion in commemorating National Unity Day recently. National Unity Day also known as Rashtriya Ekta Diwas marks the birth anniversary of Sardar Vallabhai Patel and 31 October of every year is c....
---
Chennai, Nov 2:-- The Diesel Loco Periodic Overhauling (DSLPOH) wing of Golden Rock Workshop (GOC) in Tiruchy in Tamil Nadu is gearing up for diversification of work amidst a situation where the utilization of diesel locos in traffic services is coming down. DSLPOH wing of GOC began functioni....
---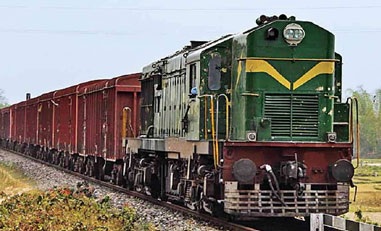 Chennai, Nov 2:-- Southern Railway recorded splendid achievement in the freight segment. The prestigious establishment has loaded 2.09 million tonnes of freight which earned an income of Rs 162.42 crore for it. For the financial year, April to October 2020, Southern Railway loaded 14.78 milli....
---
Tamil Nadu: Chennai, October 29:-- Madras High court has directed CB-CID wing of Tamil Nadu Police to undertake investigation in a scam related to PG medical admissions in the state. Many candidates who have not got seats even after the mop-up round counseling were conducted filed petitions i....
---
Tamil Nadu: Chennai, October 29:-- East Central Railway will operate festival special trains connecting Danapur and Yesvanthpur and will also be connecting Dr. MGR Chennai Central, Jolarpettai, Katpadi stations in Tamil Nadu. Train No.03209 / 03210 Danapur - Yesvantpur - Danapur Bi-Week....
---
© 2021 Fast Mail Media Pvt Ltd. All Rights Reserved.