Thursday 28th of October 2021
BEL pays Rs 149.52 crore final dividend to the Government, totalling Rs 498.38 crore for FY 2020-21
(FASTMAIL) -
Defence Public Sector Undertaking (DPSU) Bharat Electronics Limited (BEL) has paid a total dividend of 400 per cent on its paid up capital to the Government for Financial Year 2020-21.
Chairman and Managing Director (Additional Charge), BEL Smt Anandi Ramalingam presented the 120 per cent final dividend cheque for Rs 149.52 crore, payable on the shares held by the President of India, to Raksha Mantri Rajnath Singh in New Delhi on October 27, 2021. The total dividend paid to the Government stands at Rs 498.38 crore. There has been a 43 per cent increase from FY 2019-20 despite the COVID-19 pandemic.
Earlier, the Company had paid two interim dividends of Rs 174.43 crore each consisting of 140 per cent on face value of Rupee one per equity share in February and March 2021.
Related Corporate News News
Angul,FASTMAIL - The union coal minister Pralhad Joshi will be on a five-hour visit to review coal production , transportation and stock status of Talcher Coalfield which accounts for more than 60 per cent coal production of Mahanadi Coalfield Limited, the flagship company of Coal India ....
---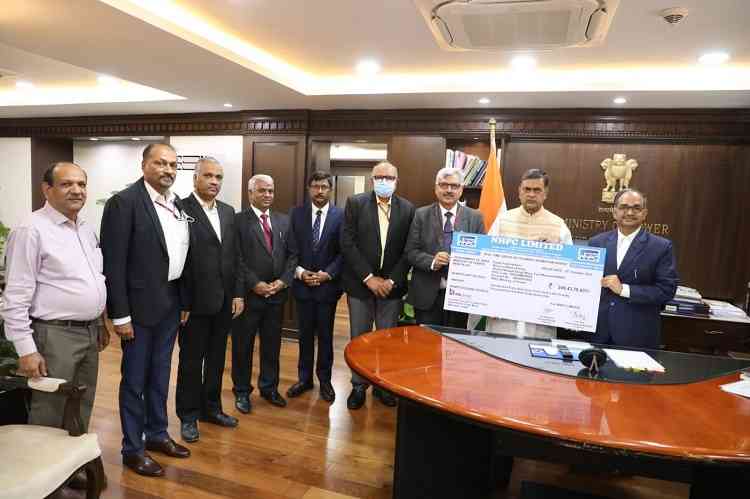 (FASTMAIL) -NHPC, a premier hydro power Company and a 'Mini Ratna' Category-I Enterprise of the Government of India has paid a final dividend of Rs. 249.44 Crore to Government of India for the F.Y. 2020-21 on October 21, 2021. Shri A.K. Singh, CMD, NHPC handed the payment intimatio....
---
New Delhi, 19 Oct(FASTMAIL) - Hindustan Unilever Limited (HUL), a major FMCG company, has consolidated its net profit for the second quarter (July-September) of the current fiscal to Rs 2,185 crore, up 10.69 per cent. The company had posted a net profit of Rs 1,974 crore in the second quarter ....
---
New Delhi, 19 Oct(FASTMAIL) - Leading FMCG company Nestle India Ltd's net profit rose 5.15 per cent to Rs 617.37 crore during the third quarter (July-September). Nestl India on Tuesday said that the company's profits have increased due to the rise in the domestic market.
---
(FASTMAIL) -The Competition Commission of India (CCI) approves the acquisition of Global Content Alpha Partners Holdco Pte. Ltd. (GCAPH) by Starnmeer B.V. (Starnmeer) under Section 31(1) of the Competition Act, 2002. Starnmeer, a recently incorporated entity, is ultimately owned and cont....
---
© 2021 Fast Mail Media Pvt Ltd. All Rights Reserved.