Saturday 4th of July 2020
Police forms 25 teams to nab history-sheeter Vikas Dubey behind killing of 8 policemen...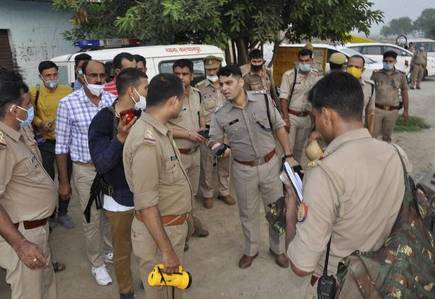 Dehradun, July 4:-- Uttar Pradesh Police is yet to find vital clues about the whereabouts of absconding Vikas Dubey and his accomplices. More than 25 teams have been formed by UP Police to nab history-sheeter 36 hours after eight police personnel were gunned down by criminals during an attempt to arrest him.
U.P.'s Additional Director-General of Police (Law &Order) Prashant Kumar said, "Keeping in view the gravity of the heinous crime, multiple police teams including Special Task Force (STF) and Special Operation Group (SOG) have also been roped in to conduct raids at culprits's suspected hideouts across the country including U.P., Uttarakhand and other neighbouring states like Haryana, Rajasthan and Himachal Pradesh."
The surveillance team is scanning over 500 mobile phones and efforts are on to retrieve information pertaining to Dubey.
"The possibility of gangster Vikas Dubey and others, escaping out of the state cannot be ruled out, owing to Unlock-2, but since U.P. government had issued necessary instructions about sealing inter-state borders, there are maximum chances of them hiding in the state itself," said a senior IPS officer in Lucknow.
Related Uttar Pradesh News
Prayagraj, July 3:-- A three-day American Society of Microbiology (ASM) webinar on "Combating millennium pandemic Covid-19" is being held jointly by Department of Industrial Microbiology, Sam Higginbottom University of Agriculture, Technology and Sciences, Prayagraj and Department of Mic....
---
Prayagraj 3 July, (Fast Mail News):-- Indian Railways is working on an ambitious target of doubling the freight volume being carried by Railways by 2024. To achieve this, Indian Railway is strengthening its share in transport of conventional commodities like coal , POL, steel , cement , iron ore , f....
---
Prayagraj, July 03:-- People of Bhiti village of Handiya tehsil were deeply grieved after its resident Sub-Inspector Nebulal lost his life at the encounter in Kanpur. Nebulal, son of Kalika Prasad belongs to a very humble family. After the news of his death, his friends, relatives and v....
---
Dehradun, July 3:-- At least eight Uttar Pradesh police personnel, including a Deputy Superintendent of Police Devendra Mishra, aged 50, were killed in an encounter with criminals in Kanpur in the wee hours of Friday. The encounter took place when the police team was approaching to arrest Vik....
---
Prayagraj, July 03:-- The police have arrested former MLA from the west constituency of Prayagraj, Khaild Azeem alias Ashraf, brother of ex-MP Atiq Ahmed and main accused in the murder case of BSP MLA Raju Pal. Ashraf had a reward of Rs 1 lakh on him. He was absconding since three years and today h....
---
© 2020 Fast Mail Media Pvt Ltd. All Rights Reserved.