Symega Food Ingredients Announces the Launch of 'Cuisinary' at AAHAR
New Delhi, Apr 29, (Fast Mail News):-- Symega Food Ingredients Limited launched 'CUISINARY', a range of premium quality food solutions, including seasonings, sauces, coatings and flavour enhancers for professional kitchens at the AAHAR-International Food & Hospitality Fair, Pragati Maidan, New Delhi yesterday.
The Cuisinary range includes seasonings, breaders & coatings, sprinklers, flavour burst, spice blends and powders, marinades, cooking sauces, mayonnaise & dressings. All products are crafted with high-quality ingredients and are aimed at providing food solutions for hotels, restaurants, caterers and quick service restaurant food services.
A test kitchen run by senior in-house chefs from Symega was set up at AAHAR, demonstrating product application and usage ideas as well as offering all visitors a chance to experience the products in delicious food and beverage preparations.
Related Food News
Hyderabad, Apr 11, (Fast Mail News):-- Sanjay Vazirani's Foodlink, one of India's largest luxury F&B service companies today announced the launch of 'Art of Dum' in Kondapur, Hyderabad. 'Art of Dum', a cloud-kitchen brand is currently delivering scrumptious fo....
---
Hyderabad, Mar 28, (Fast Mail News):-- Eastern Condiments, one of the leaders in the spices segment in Southern India and GCC countries, has introduced an all-new Spicy Chicken Masala, a premium blended masala that caters to the consumer's evolving taste palate. The newly launched masal....
---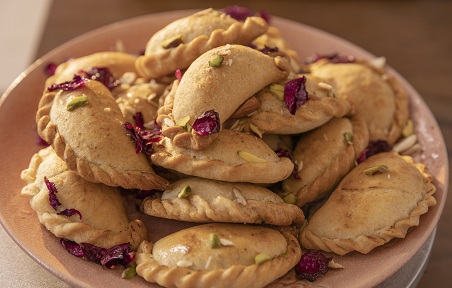 Lucknow, Mar 17, (Fast Mail News):-- Amidst the colors of Holi, the sweetness of the wonderful, colorful, delicious and many-named gujiyas, which reached the shops in the capital, has won a smile on the faces of the people. After playing gulal on the day of Holi, people are buying Gujhiya fier....
---
New Delhi, March 08, (Fast Mail News):-- As travel restrictions ease in India, food enthusiasts and childhood friendsRocky Singh and Mayur Sharma, are all setforthe 7th Seasonof HistoryTV18'sdigital-first series #RoadTrippinWithRnM. On this season, the pairstart off with the monuments an....
---
World food prices reached an all-time high in February, the Food and Agriculture Organization (FAO) said in a statement Friday. FAO said its food price index averaged 140.7 points in February, up 3.9% from January -- a significant increase of 24.1% from a year ago. The UN agency said the price incre....
---
© 2022 Fast Mail Media Pvt Ltd. All Rights Reserved.