Roll with KFC's all new Chicken Roll at Rs.99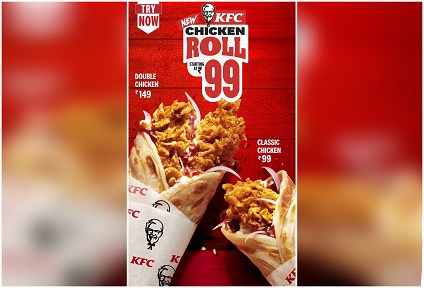 Hyderabad, Apr 5, (Fast Mail News):-- Life is all about choices. But the one tough choice foodieshave tooften make, and absolutely hate is Indulgence versus Budget. Whether they should order their favourite food, or save that money is a constant battle in their heads. For today's generation, it is an internal tug-of-war between"I want to eat this, it's delicious!" and "But should I spend so much?"Well, Colonel Sanders is here to your rescue and to put a full stop to all the confusion, with the all-new KFC Chicken Roll. The latestmenu offering is the perfect wayto fulfill all your crispy chicken cravings, at an unbelievable price of INR 99/- only.
TheKFC Chicken Rollhas the OG hand-breaded extra crispy and juicy chicken strip, wrapped in a warm flakyparatha, topped withSpicy Garlic and Nashville sauces, and crispy onions.Priced at INR 99/- for the Classic Chicken Roll and INR 149/- for the Double Chicken Roll,this delectable new item promises to give you chicken in every bite.
So, KFCfans no longer have to go 'golgol' choosing between indulgence and their wallets anymore. Whether you're looking for a lunch option that won't break the bank, a filling dinner after a packed day or a tasty midday snack, any time is a good time for the KFC Chicken Roll.
Related Food News
© 2023 Fast Mail Media Pvt Ltd. All Rights Reserved.