Reshuffle in West Bengal police
KOLKATA: The West Bengal government on Tuesday appointed IPS officer Debasmita Das as the deputy commissioner (headquarters) of Bidhannagar Police, as per a notification.
Das, who was the deputy commissioner (special) of the Kolkata Police's detective department, replaced Surya Pratap Yadav, it said.
Yadav was sent to Kolkata Police in the post held by Das.
IPS Amitabha Maiti, who was Superintendent of Police (SP) of Malda district, was made Special Superintendent (SS) of state Intelligent Bureau. Pradeep Kumar Yadav, who held the post of SS (IB), was made the new SP of Malda.
Related West Bengal News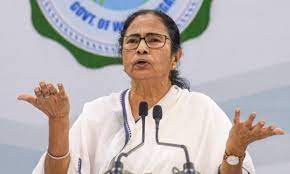 KOLKATA:West Bengal government has imposed strict restrictions from today in wake of the fast-spreading Omicron cases. After reviewing the present Covid situation in the state, Chief Secretary HK Dwivedi announced that all educational institutions will be closed from today.
---
Kolkata,(FAST MAIL NEWS) - Millions of refugees from East Bengal (now Bangladesh) came to India after having lost everything including land and livelihood after the bloody and painful partition of India. Refugee farmers were settled in different districts of West Bengal and were given farmland....
---
Kolkata,FASTMAIL - After the crushing defeat in the West Bengal Assembly elections, the Bharatiya Janata Party is constantly battling for its existence in the state. On Thursday, the state BJP has suffered another blow with actress Shravanti Chatterjee has announced to quit BJP. On Thursday, a....
---
KOLKATA:West Bengal's ruling Trinamool Congress government is likely to hold election for the corporation and municipal in two phases,acccording to sources. There are reports that the TMC government will conduct the corporation elections in December and the municipal elections in J....
---
Kolkata, 31 October (FASTMAIL) - A fire broke out in a house in the Regent Park police station area of ??Kolkata, the capital of West Bengal, early Sunday morning, in which a priest was burnt. The incident took place around 6:00 am. Rashid Munir Khan, Deputy Commissioner, SSD Division, said th....
---
© 2022 Fast Mail Media Pvt Ltd. All Rights Reserved.