Thursday 28th of October 2021
Dozens of women protest in Kabul over closure of schools for girls in Afghanistan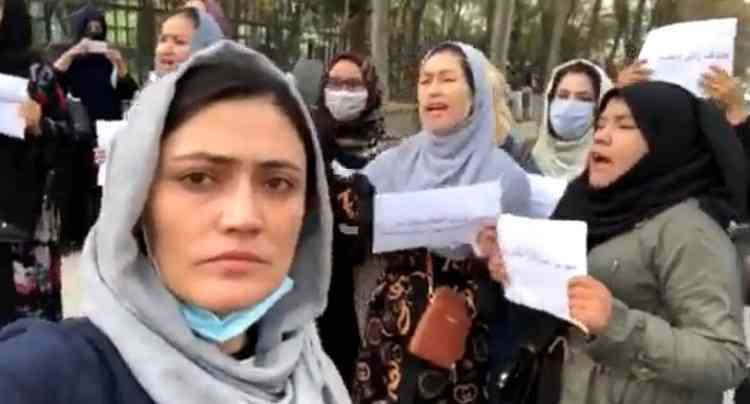 KABUL:In Afghanistan, dozens of women came out on the streets of Kabul today to protest against the closure of schools for girls and slammed the international community for their inaction. Khaama Press News Agency reported that women gathered at the gates of the United Nations Assistance Mission. They accused the international community, human rights groups and the United Nations of indifference to the treatment meted towards Afghan women by the Taliban.
Related Asia-Pacific News
(FASTMAIL) - Admiral M Shaheen Iqbal, Chief of Naval Staff, Bangladesh Navy, is on an official visit to India, from 23 – 29 Oct 21. At New Delhi, Admiral Shaheen Iqbal will interact with the Chief of Naval Staff, in addition to the Chief of Defence Staff and other high ranking Gol offici....
---
(FASTMAIL) -The 1st Training Squadron (comprising Indian Naval Ships Sujata, Magar, Shardul, Sudarshini, Tarangini and Coast Guard Ship Vikram) is on a four day visit to Sri Lanka from 24 - 28 Oct 21 as part of their Overseas Deployment for the 100th and 101st Integrated Officers Training Cour....
---
NEW DELHI:Foreign Secretary Harsh Vardhan Shringla has said that India Bangladesh relations today are deeper than any other strategic partnership. Speaking at the Swarnim Vijay Varsh conclave in New Delhi on Saturday, the Foreign Secretary said that the relationship between the two countries w....
---
Iranian and Turkish foreign ministers have voiced concern over a surge in Daesh's terrorist attacks on worshippers in Afghanistan, which killed scores of worshippers during Friday prayers this month. During a phone conversation with his Turkish counterpart on Thursday, Hossein Amir-Abdollahian....
---
KABUL:A big explosion was heard in Kabul, capital of Afghanistan, in the morning rush hour on Wednesday, witnesses said. According to reports,the explosion took place in Dehmazang locality.The Taliban security forces rushed to the spot to take stock of the situation,
---
© 2021 Fast Mail Media Pvt Ltd. All Rights Reserved.