Monday 28th of September 2020
UK : Science enables soldiers and aircrew to partner with smart machines on Salisbury Plain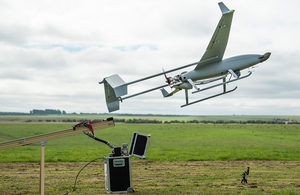 (Fast Mail News) - Scientists from the Defence Science and Technology Laboratory (Dstl) have been working with soldiers, aircrew and industry partners on Salisbury Plain in Wiltshire in a unique experiment to see how humans and a new generation of smart machines can partner to change the way that military operations are conducted.
During a two week exercise at Copehill Down Village, soldiers and aircrew combined their core platforms with uncrewed aerial vehicles (UAVs) and autonomous ground vehicles (UGVs) developed by industry partners to look at the challenges and opportunities provided by technology that could help the Army improve military advantage. Helicopter pilots controlled UAVs from the cockpit, providing ground troops and vehicles with improved situational awareness. Tank commanders and dismounted troops used UGVs and UAVs to enhance their ability to find targets in complex urban environments.
Cpl Liam Fisher, 1st Battalion The Yorkshire Regiment said:
Technically it's a big game of hide and seek. We can get 'hands on' with the drones, get 'hands on' with the ground vehicles and find the people you need to find. It will absolutely make a difference, there are parts where you can't go, especially for your dismounts. So instead of using ground troops, you can push the UGVs out or other vehicles out and get them to do your job for you instead.
The MOD is investigating how to reduce the collective burden of war fighting tasks on soldiers by exploiting software and autonomous vehicles to carry out tasks such as combat support and intelligence, surveillance, and reconnaissance (ISR) missions.
The trial falls under the Army Warfighting Experiment, a project that has been running for the last 10 years and gives personnel the opportunity to test a whole range of futuristic technology. Dstl's scientific expertise identifies and carries out initial testing on viable industry proposals to deliver technology that shows the greatest potential to the end user and deliver clear military and strategic advantage to the UK.
Dstl's Project Manager Jamie M said:
These types of experiments are really important for the future, if we're going to keep pushing forward and understanding autonomous technologies and behaviours, we need to have these experiments where we can be right at the beginning of the science and get soldiers' inputs straight away into the development of the systems.
This has been a hugely demanding activity to pull together, particular during the Covid-19 pandemic with significant hurdles to overcome to deliver a trial of this complexity. It has been a privilege to work alongside Army colleagues to understand their challenges and help shape the development of industry delivered solutions that could address those challenges.
Related Sci & Tech News
(Fast Mail News) - Large volcanic eruptions can help to forecast the monsoon over India – the seasonal rainfall that is key for the country's agriculture and thus for feeding one billion people. As erratic as they are, volcanic eruptions improve the predictability, an Indian-German....
---
(Fast Mail News) - FiveNational COVID-19 Bio-repositories have been established by the Department of Biotechnology (DBT). This is a part of the Network of 16 COVID-19 biorepositories established in the country by Department of Biotechnology, Indian Council of Medical Research and Council of Sc....
---
(Fast Mail News) - Scientists have found a new way to probe into supermassive black holes – detecting their properties like mass and spin by observing how they rip apart stars. They have found a model which can infer black hole mass, its spin by observing how the stars are ripped apart o....
---
(Fast Mail News) -Biotechnology Industry Research Assistance Council (BIRAC), set up by Department of Biotechnology (DBT), Government of India is supporting COVID-19 vaccine development by facilitating the establishment of the r-VSV vaccine manufacturing platform for the first time in In....
---
(Fast Mail News) - Army Institute of Cardio Thoracic Sciences (AICTS) based in Pune is a super specialisation institute dealing with Cardio Thoracic Sciences. Recently a 14 day old boy of a serving soldier after birth was detected with slow heart rate and diagnosed with complete heart block. ....
---
© 2020 Fast Mail Media Pvt Ltd. All Rights Reserved.