Baltimore : Protesters throw statue of Christopher Columbus into water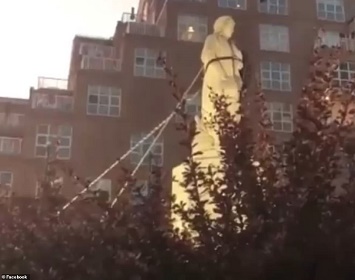 Baltimore:A group of protesters in Baltimore, in the eastern U.S. state of Maryland, toppled a statue of Christopher Columbus on Saturday, the country's Independence Day, and threw it into the city's Inner Harbor, The Baltimore Sun reported.
A video shows protesters taking down the statue using a rope as Fourth of July fireworks explode in the distance, according to local media.
Related Americas News
(Fast Mail) - Mexico surpassed France in the number of fatalities from the coronavirus outbreak, with 30,366 deaths. U.S. President Donald Trump said a vaccine remedy will be ready by the end of the year. The World Health Organization reported a one-day high for global coronavirus cases....
---
WASHINGTON:The United States is sending two aircraft carriers to the South China Sea to hold military exercises at the same time China is holding drills in the area. China announced last week that it was scheduled to hold a five-day drill starting on July 1 in the South China Sea near ....
---
(Pyongyang) - North Korea has dismissed the possibility of fresh talks with the US on the denuclearization of the Korean Peninsula, saying the negotiations would only serve as "a political tool" for Washington. North Korea's vice Foreign Minister Choe Son Hui said the....
---
Washington, Jul 04:-- US president Donald Trump has blamed Chinese aggression for the stand-off at the India-China border. Quoting Mr Trump, White House press secretary Kayleigh McEnany said, China's aggressive stance along the India-China border fits with a larger pattern of Chinese agg....
---
(FM) - A British court has refused to return $1 billion of Venezuela's gold reserves held in London, siding with opposition figure Juan Guaido who asked for the release to be denied. Judge Justice Teare at the English High Court said the government in London had "unequivocal....
---
© 2020 Fast Mail Media Pvt Ltd. All Rights Reserved.