Saturday 4th of July 2020
SER offers 471066 free meals to needy
Ranchi, 4 July:-- Ever since the Lockdown was imposed in the wake of Covid-19 pandemic, South Eastern Railway (SER) till June 30 has distributed 4,71,066 free and hygienic meals to the helpless, poor and needy people nearby and outside railway areas at its Headquarters and all over four Divisions covering Kharagpur, Adra, Chakradharpur and Ranchi.

A press release issued by SER on Saturday said out of total 4,71,066 , 92,880 meals were served and distributed by Indian Railway Catering and Tourism Corporation (IRCTC).

The rest 3,78,186 free meals were arranged for distribution by Security and other departments of SER. Various associations including SRR Women's Welfare Organisation (SERWWO), SER Bharat Scouts and Guides, St John Ambulance Brigade, Civil Defence also joined hands in this mass food distribution.
Related Jharkhand News
Ranchi, July 03:-- Governor Draupadi Murmu on Friday paid tribute to CRPF soldier Kuldeep Oraon, who was killed in an encounter with militants in Srinagar, and said that this country is proud of such brave children. She said that our brave soldiers are ready each moment to keep the unity, inte....
---
Ranchi, July 03:-- On Friday, state's Health Minister Banna Gupta informed through a tweet that Jharkhand ranked tenth among the top 15 states in Corona recovery cases. He acknowledged the efforts of all doctors, health workers and denizens of the state for such a result. He hoped that t....
---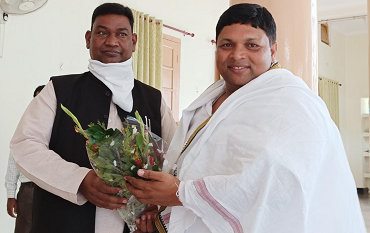 Ranchi, 3 July:-- State agriculture minister Badal Patralekh formally met state labour minister Satyanand Bhokta at his residence on Friday where they had a discussion on providing employment to the migrant labourers in the home state. Bhokta informed that the government was worki....
---
Ranchi, July 3:--The Central government is preparing changes to improve the power system. In this connection, the Electricity Act (Amendment) Bill-2020 is to be tabled in Parliament. The consent of the State Governments is also required on the draft of this Act (Amendment) Bill. Union Minister of Po....
---
Ranchi, July 2: A raid was conducted today resulting in seizure of banned betel spices. This was on the instructions of Lokesh Mishra, Sub-Divisional Officer, Sadar Ranchi. About one and a half lakh pouches of banned pan masala were seized from a shop located in Luna Bhatti Checkpost of Sukhd....
---
© 2020 Fast Mail Media Pvt Ltd. All Rights Reserved.