Madhya Pradesh govt imposes night curfew till further orders in view of rising cases of Coronavirus
Bhopal,FASTMAIL -
Madhya Pradesh government has imposes night curfew till further orders in view of rising cases of Coronavirus. The night curfew will remain in force from 11 pm to 5 am. Chief Minister Shivraj Singh Chouhan addressed people of the state yesterday evening. Earlier, Chief Minister held the review meeting of corona infection control and vaccination at Mantralaya.
Chief Minister said that the officers-in-charge of the districts where the rate of corona vaccination has decreased should ensure to work on this with special attention.
Related News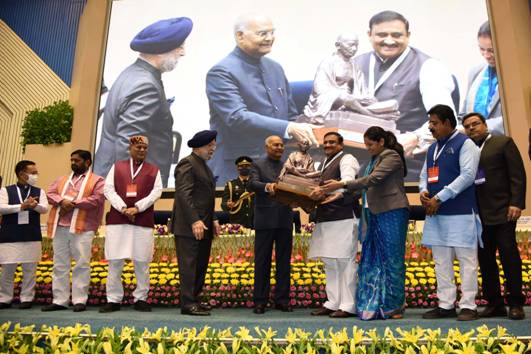 Indore,FASTMAIL - The President of India Ram Nath Kovind today felicitated the awardees of the cleanest cities of India at the 'Swachh Amrit Mahotsav' hosted as part of Swachh Bharat Mission-Urban 2.0 by Ministry of Housing & Urban Affairs (MoHUA) at Vigyan Bhavan, New De....
---
Bhopal, 10 November (FASTMAIL)- Former Minister and Congress MLA Jeetu Patwari has claimed that 14 children have died in 48 hours in the fire that broke out on November 8 at Kamla Nehru Children's Hospital located in Hamidia Hospital premises in Bhopal. The hospital administration itself has p....
---
Indore, 30 October (FASTMAIL)- Famous Jain saint Acharya Vimad Sagar committed suicide by hanging in Sant Sadan located at Nandanagar under Pardeshipura police station area of ??Indore on Saturday evening. There is an atmosphere of mourning in the Jain society after his death. It is being told....
---
Bhopal, 05 August:-- There is a lot of enthusiasm among the devotees in Madhya Pradesh too in Ayodhya regarding the Ram temple Bhumi Pujan. When there will be Bhoomi Pujan in Ayodhya, then bhajans and aartis will be performed in various temples of Madhya Pradesh. In the evening, the day is set....
---
Bhopal, 05 August:-- Madhya Pradesh Chief Minister Shivraj Singh Chauhan has been discharged from the hospital on Wednesday. Now they are perfectly healthy. His third investigation report of corona infection has been negative. However, according to the guidelines Kovid-19 will stay in his resi....
---
© 2022 Fast Mail Media Pvt Ltd. All Rights Reserved.