Thursday 24th of June 2021
BJP workers tore up Naveen Patnaik's photos in Angul vaccination centre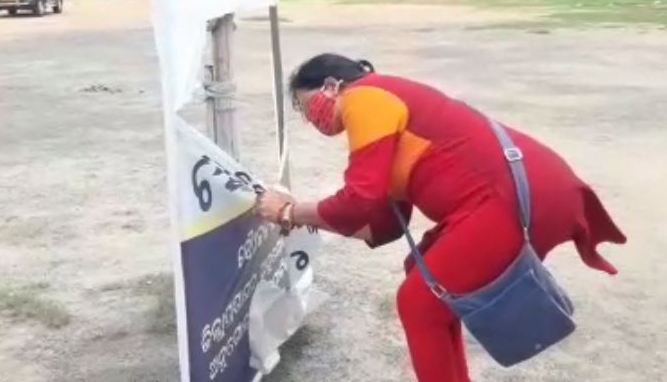 (Fast Mail News)-ANGUL:
While a massive vaccination drive was going on in Angul stadium today some BJP activists stormed the centre and tore up photos and posters of Naveen Patnaik.
The BJP activists were opposing the display of Naveen Patnaik's photos and posters at all the vaccination centers in the district.
While according to them the vaccine is being given by the central government led by Narendra Modi the credit is being taken by the Naveen patnaik government.
How ever,vaccination work at the stadium was not affected and went on smoothly today.After sometime police intervened and took the protesters away.
On the complaint of additional Tahasildar Duryodhan Sahoo, cases have been registered against 12 BJP workers in Angul police station, according to police.
Related Politics News
(Fast Mail News) - The Vice President, M. Venkaiah Naidu today appealed to the people to make Yoga a part of their daily lives.
---
PATNA:In Bihar, Chirag Paswan-led Lok Janshakti Party (LJP) suffered a major jolt when five of its MPs formed a separate group under the presidency of Pashupati Kumar Paras. This group has decided to remove Chirag Paswan as the leader of the Parliamentary party in Lok Sabha. Pashupati Kumar Pa....
---
(FASTMAIL) -The Prime Minister, Narendra Modi has condoled the demise of Sir Anerood Jugnauth. In a tweet, Shri Modi said:"Padma Vibhushan Sir Anerood Jugnauth, a tall leader & statesman, was the architect of modern Mauritius. A proud Pravasi Bharatiya, he helped forge the spe....
---
(Fastmailnews) -The Union Home Minister Amit Shah attended the 'Shauryanjali' programme, organized to commemorate the 125th birth anniversary of Netaji Subhash Chandra Bose, at the National Library in Kolkata today. On this occasion, Shri Amit Shah paid homage to the great freedom fighters of ....
---
Contai (WB), Dec 23: Senior Trinamool Congress leaders on Wednesday lashed out at party turncoat Suvendu Adhikari, who has recently joined the BJP, saying there is no place for "traitors" in the politics of West Bengal. Adhikari's joining of hands with "forces that sprea....
---
© 2021 Fast Mail Media Pvt Ltd. All Rights Reserved.