Monday 27th of September 2021
Coal Sector geared up to meet the upsurge in Power Demand: Ministry of Coal
(FMNews) -
Ministry of Coal is all geared up to address the issue of stock build up at the end of the Thermal Power Plants (TPPs) during the monsoon season.
It is notable that coal stocks with CIL are adequate to meet the upsurge in Power demand being witnessed in the country since July this year.
The supply of coal to the Power Plants is being monitored at the highest level in the Ministry on a daily basis in coordination with the Ministry of Power, Railways and the Coal Companies.
Secretary (Coal) has reviewed the supply scenario with the Coal Companies on 27th August as well as 30th August. Secretary (Coal) has given specific instructions to the coal companies to give priority supplies to all the TPPs having critical stock level and to focus on stock liquidation from the mines having high stock level.
He has further directed that in case of availability issue at linked mines alternative sources be allocated for smooth running of the plant. The despatches are being aligned with the advisories of Power Ministry.
Related IN THE NEWS News
KABUL:An Afghan woman gave birth to a baby girl in the middle of an evacuation flight operated by Turkish Airlines. After leaving her stopover in Dubai, Soman Noori, 26, gave birth at an altitude of 10,000 meters (32,808 feet) in Kuwaiti airspace at 0100GMT, said a statement by Tur....
---
RAIPUR:Chhattisgarh Chief minister Bhupesh Baghel said he has invited senior party leader Rahul Gandhi to visit the state. Speaking to reporters in New Delhi, Mr Baghel said, Mr Gandhi will first visit Bastar, and inspect various projects and works there. Amid power tu....
---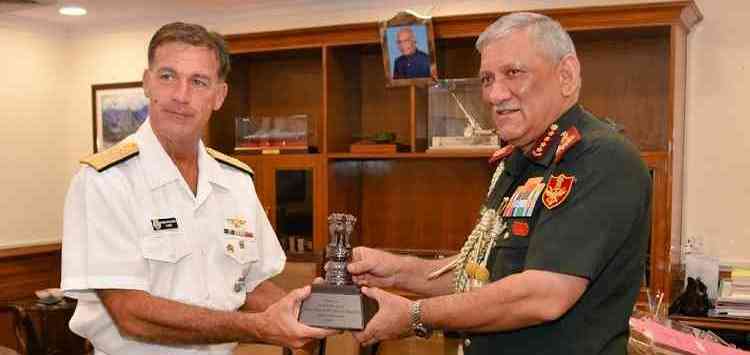 (FAST MAIL) - Chief of Defence Staff General Bipin Rawat held a meeting with Commander of the United States Indo-Pacific Command (US INDOPACOM) Admiral John C Aquilino in New Delhi on August 25, 2021. Issues related to peace & security in the region and bilateral defence cooperation were p....
---
(FM) - A young man was shot dead by criminals in broad daylight on Tuesday at Manjli Chowk in the TOP police station area of ??Purnia city. The young man died on the spot. The deceased is Harsh Kumar Jha, 22, son of B Kothi Sukhsena resident Kamlesh Jha who used to study at Dollar House Chowk.....
---
NEW DELHI:Prime Minister Narendra Modi will share his thoughts with the people in the country and abroad in the 'Mann Ki Baat' programme on All India Radio on the 29th of this month. It will be the 80th episode of the monthly radio programme. The Prime Minister has invited people t....
---
© 2021 Fast Mail Media Pvt Ltd. All Rights Reserved.