I am working hard on my process: Virat Kohli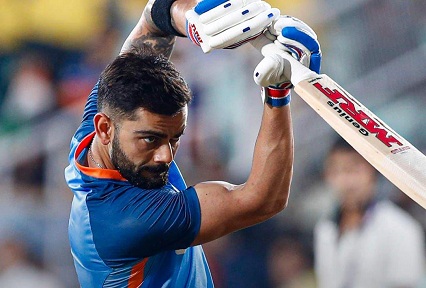 New Delhi, Sep 26, (Fast Mail News):-- After a silent couple of games, Virat Kohli roared back to life in the series decider against the Aussies as the former Indian skipper pumped out a match-winning masterclass, once again underlining the fact why he is such a brilliant finisher.
Not only did he win the game emphatically for the Men in Blue but his presence in the middle was iconic as he very calmly steered the Indian ship away from any immediate jeopardy after they suffered a double whammy at the start of the innings, before taking the team within touching distance of the finish line.
Over the last two series for India, Virat Kohli has looked at his dominating best. Speaking in the post-match presentation, Virat Kohli shared what has changed ever since the Asia Cup. "I have enjoyed batting ever since I came back at the Asia Cup. Today also I was an hour and a half before the team. I am working hard on my process and happy with my contributions," he said.
Related Sports News News
Hyderabad, Sep 26, (Fast Mail News):-- India beat Australia in a thrilling run chase in Hyderabad in the decider on Sunday to complete a 2-1 series victory. India maintained their excellent recent record in run chases in T20Is with a win over Australia in Hyderabad in the third and final T20I....
---
New Delhi, Sep 23, (Fast Mail News):-- India will take on Australia today in the second T20I at the Vidarbha Cricket Association Stadium in Nagpur. Australia leads the three-match series 1-0. In the first T20I, all-rounder Hardik Pandya's scintillating 30-ball 71* and Axar Patel's....
---
New Delhi, Sep 23, (Fast Mail News):-- India would be disappointed at their opening day's efforts against Australia where their vehement attempts at shuffling their bowling avenues ended up being thwacked to the ropes as the visitors chased down a momentous total, posing a handful of serious q....
---
New Delhi, Sep 23, (Fast Mail News):-- In a communique that would make both the fans and the IPL franchises happy, BCCI announced that the franchise extravaganza will be returning to its pre-COVID format in the following season, entailing home and away leg fixtures. Ever since COVID struck, I....
---
New Delhi, Sep 22, (Fast Mail News):-- Super King Ruturaj Gaikwad, who is currently playing for India A in the unofficial three-match one-day series, said that his last two years have been progressive. "If you look at my last two years, they have been very progressive... you can't ....
---
© 2022 Fast Mail Media Pvt Ltd. All Rights Reserved.