Birmingham scaffolder given 11-year ban for abuse of Covid-19 financial support
LONDON: David McGuinness, 41 of the Sutton Coldfield area of Birmingham, was given 11-year ban for abuse of Covid-19 financial support.According to reports,he was sole director MC-Dalt Scaffolding Services Ltd, which was incorporated in 2017 with its registered office in Erdington in Birmingham.
In May 2020, McGuinness applied for and received a Bounce Back Loan of £50,000 on behalf of the company. Bounce Back Loans were a government scheme to help keep businesses afloat during the Covid-19 pandemic, whereby companies could apply for loans of up to 25% of their 2019 turnover, up to a maximum of £50,000.
He then applied to dissolve the business two months later, which led to the Insolvency Service opening an investigation.
Investigators found that McGuinness had stated the company's turnover as nearly £300,000 when its accounts for 2019 showed turnover of less than £20,000. The company would therefore have only been entitled to a Bounce Back Loan of around £4,000.
Compounding this, instead of using the Bounce Back Loan money for proper company use, the day after receiving the funds he instead transferred nearly £15,000 out of the company's account, with the bank reference 'Dave'. A further £35,000 was transferred to various third-parties.
When applying to dissolve the company, McGuinness was legally required to notify interested parties and creditors, such as a bank with an outstanding loan, within seven days and that a failure to do so could result in a criminal prosecution. He did not follow this advice however.
On 13 December 2022 the Secretary of State for Business, Energy and Industrial Strategy accepted a disqualification undertaking from David McGuinness after he did not dispute he had abused the Bounce Back Loan scheme by claiming money to which his business was not entitled.
His ban lasts for 11 years and began on 3 January 2023. The disqualification prevents him from directly or indirectly becoming involved in the promotion, formation or management of a company, without the permission of the court.
Peter Smith, Deputy Head of Insolvent Investigations at the Insolvency Service, said:"The Bounce Back Loan scheme was set up to support businesses in genuine need during the pandemic, and David McGuinness clearly abused it by making false declarations to his company's bank".
Related UK NEWS News
LONDON: The UK government has laid regulations before Parliament that brings airports slots rules for the upcoming summer season back in line with pre-pandemic levels, while retaining certain flexibilities to support the aviation industry's recovery. From 26 March 2023, airlines wi....
---
LONDON: The UK supports the US assessment that North Korea has completed an arms delivery to Russia for the use by the Wagner Group in Russia's illegal war in Ukraine. Foreign Secretary James Cleverly said:"The UK supports the US assessment that North Korea has completed an arms delivery to Ru....
---
LONDON:Cricket bat and pad exports from the UK to India could be in line for a big boost next season thanks to the Free Trade Agreement (FTA) between the two countries. The latest round of negotiations on the deal, kicked off by the Trade Secretary in person, wrapped up in New Delhi last week.....
---
LONDON:Prime Minister Rishi Sunak met Krišj?nis Kari?š in Riga today to thank the Latvian leader for hosting a successful Joint Expeditionary Force (JEF) summit. The Prime Minister welcomed the already strong defence cooperation between the UK and Latvia. Both agreed on the impor....
---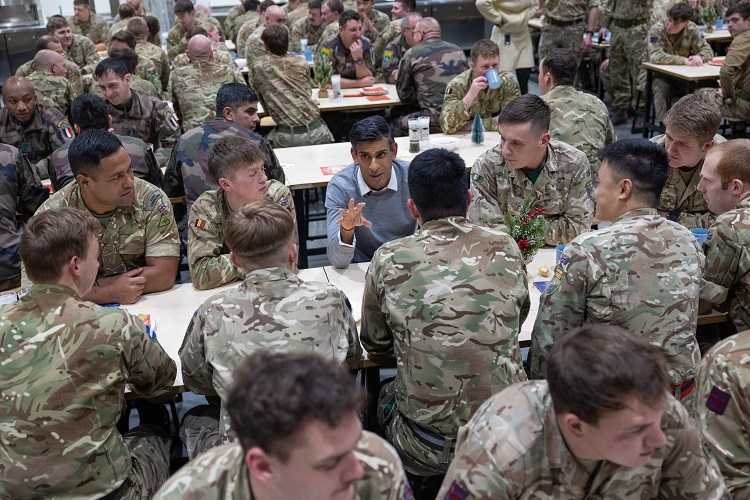 LONDON: Prime Minister Rishi Sunak thanks troops for service and dedication in unprecedented year of global instability following the invasion of Ukraine. Addressing military personnel in Tapa, Estonia, he told British troops their service and dedication would not go unnoticed this Christmas, ....
---
© 2023 Fast Mail Media Pvt Ltd. All Rights Reserved.