Saturday 4th of July 2020
Government agrees support package to UK steel company
(Fast Mail News) -
The UK government has today confirmed that it has provided an emergency loan to Celsa Steel (UK) Ltd to allow the company to continue trading.
The agreement will safeguard a key supplier to the UK construction industry and secures more than 1,000 jobs, including more than 800 positions at the company's main sites in South Wales.
As part of the loan, which is expected to be repaid in full, the company must meet a series of legally-binding conditions, which the government has negotiated to ensure the loan benefits the workforce, business and wider society. This will ensure public money is used to aid wider government policies to further benefit the UK. These conditions include commitments to protect jobs, climate change and net zero targets, improved corporate governance, such as restraints on executive pay and bonuses, and tax obligations. It has also required further financial commitments from shareholders and existing lenders.
Related UK News
(Fast Mail) - The Ambassador to Turkmenistan, Mr Hugh Philpott signed a Memorandum of Understanding with the Minister of Finance and Economy of Turkmenistan, Mr Ezizgeldi Annamuhammedov. The officials said that the document will further enhance bilateral trade relations and facil....
---
(Fast Mail) - Following the announcement by the Chinese Government that it will impose a national security law on Hong Kong, the UK has confirmed that new arrangements will be put in place for British Nationals (Overseas). The UK government made a commitment to change the rules for BN(O)s should Chi....
---
LONDON : Prime Minister Boris Johnson said that the coronavirus crisis has been a disaster for the United Kingdom and while the government would look at what went wrong it was not the right time to have an inquiry into missteps. "This has been a disaster," Johnson tol....
---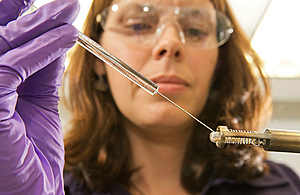 (FMNews) - The race to manufacture millions of doses of a coronavirus vaccine has been boosted with a multi-million-pound government investment, Business Secretary Alok Sharma has announced today. The government will invest up to £93 million to accelerate construction of the new ....
---
LONDON: British Health Secretary Matt Hancock said Monday that a coronavirus-tracing app will be trialled from Tuesday in the Isle of Wight as another 288 COVID-19 patients have died in Britain. Chairing the Downing Street's daily press briefing, Hancock called on the public living on ....
---
© 2020 Fast Mail Media Pvt Ltd. All Rights Reserved.