Thursday 26th of November 2020
PM: G20 must work together to defeat the pandemic and protect the planet
(FastMailNews) - The Prime Minister Boriss Johnson will urge G20 leaders to take more ambitious action to defeat the pandemic and address climate change, as he attends a virtual summit this weekend.
Hosted by Saudi Arabia, the G20 Summit will bring together world leaders for two days of discussions on how to drive the global recovery from coronavirus and build back better.
At a session on 'Overcoming the Pandemic and Restoring Growth and Jobs' today [Saturday 21st], Boris Johnson will note the UK's commitment to equitable global access for coronavirus vaccines and encourage others to step up and support the COVAX initiative, to ensure developing countries are not frozen out of the race for a vaccine.
Related UK News
(Fast Mail) -The Prime Minister Boris Johnson met Kadhimi yesterday ,their first meetings with him since he became Prime Minister of Iraq. Rising COVID-19 cases and depressed oil prices have left Iraq in urgent need of international support. The UK is launching a £6 m....
---
(LONDON(FastMailNews) -Around 11 million households across the UK will be protected from being overcharged on their energy bills thanks to an extension to the government's Energy Price Cap until the end of next year. The Energy Price Cap shields those least likely to shop around ....
---
(Fast Mail) –The Culture Secretary Oliver Dowden has today announced that National League football clubs will receive £10 million funding as part of a unique partnership with The National Lottery. He said that the support will benefit the 66 clubs in the fifth and six tiers....
---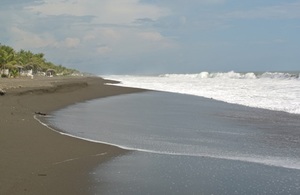 (FM) - Guatemala officially stated its adherence to the Alliance on 17 September 2020, through a letter sent by its Minister of Environment, Mr. Mario Rojas. The Alliance was originally launched by the UK at the UN General Assembly in 2019 to help drive urgent action to safeguard the g....
---
(FastMail) - Another 5,693 people in Britain have tested positive for COVID-19, bringing the total number of coronavirus cases in the country to 434,969, according to official figures released Sunday. The coronavirus-related deaths rose by 17 to 41,988, the official data showed. ....
---
© 2020 Fast Mail Media Pvt Ltd. All Rights Reserved.