Friday 16th of April 2021
Angul Accident : 4 killed,3 injured after ambulance collided head-on with gas tanker in Angul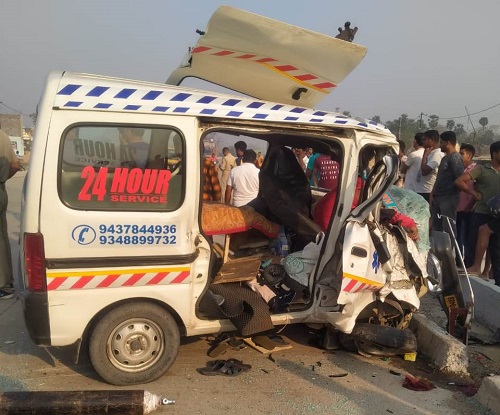 (FastMail News) -
In a tragic incident,four persons died and three others sustained serious injuries after an ambulance collided head-on with a truck coming from the opposite side at Jarpara on NH 55 this morning.
The deceased have been identified as Chandan Meher(22) and Babul Meher (24) from Aagalpur village under Luisinga police station in Balangir district, Gunda Meher (22) from Bijepur village in Bargarh district,and Babulal Suna (35) from - PWD Colony, Burla,the driver of ambulance in Sambalpur district.
The seriously injured are Rabi Meher,Lingaraj Meher and Kulu Patel.
Angul SP Jagmohan Meena told TOI,"One Bablu Meher after fallen ill was being brought to Cuttack SCB Medical College and Hospital for treatment. While the ambulance reached at Jarpara collided head-on with a gas tanker coming from the opposite side. As a result,four died on the spot and three persons sustained critical injuries and have been admitted into Angul district head quarter hospital".
Related Odisha News
Angul:The Covid-19 vaccine will be administered to nearly 7,500 healthcare workers,including anganwadi members and sanitary workers at 30 session sites in Angul district. O January 16,about 200 health officials, will be administered vaccines with a decision on further vaccinations to be....
---
PARADIP:A Day-at-Sea for members of Odisha Legislative Assembly was conducted onboard ships of the Eastern Fleet of Indian Navy off Paradip today. The event is organised by the Eastern Naval Command (ENC) as part of Fifty Glorious Years of victory of the 1971 Indo-Pak War celebrations and aime....
---
BHUBANESWAR: Many parts of Odisha continue to experience fog during the morning hours. In the capital Bhubaneswar, visibility was reduced to about 200 metres early this morning due to fog. A large part of the state has recorded a minimum temperature below 15 degree Celsius during the l....
---
(Fast Mail News) - Dhenkanal forest personnel on Monday arrested three persons under Widlife Protection Act , including a teacher of a primary school, and seized two leopard and two deer skins from them.The teacher was allegedly trading wild animal parts for many years and wanted b....
---
(Fast Mail News) - Angul: Hundreds of farmers under the banner of All India Krishak Khet Majdoor Sangathan(AKKMS) have staged a demonstration in front of the district magistrate's office at Angul here in protest against the new farm law. Led by Sangh presid....
---
© 2021 Fast Mail Media Pvt Ltd. All Rights Reserved.