Saturday 4th of July 2020
NTPC Talcher Kaniha celebrates National Doctor's Day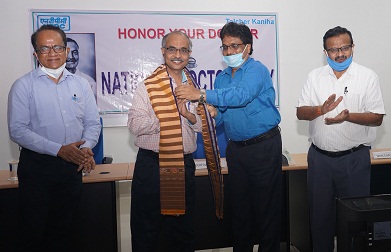 Angul, Jul 03, (Fast Mail News):-- National Doctor's Day was celebrated at the newly inaugurated Smart Classroom at RLI, NTPC Talcher Kaniha on July 2, 2020. On this occasion, Dr. B.K Behera, Sr. Specialist, Medicine from Corporate Medical gave a talk on COVID-19 prevention to the Hospital staff. He spoke comprehensively on maintaining adequate hand-hygiene, healthy diet, and the importance of physical health for COVID-19 prevention.
Dr. R.K Mishra, CMO NTPC Kaniha mentioned important facts pertaining to diagnosis and treatment of COVID-19 patients, which is crucial in the light of a 10- bedded Kaniha COVID Hospital being launched soon at the Station. Shri Mishra spoke about the need to educate doctors and hospital staff about accurate procedures and measures to be followed for affected patients.
Related Odisha News
Bhubaneswar, Jul 02, (Fast Mail News):-- Manju Jeena, an ASHA from village Kandalei of Khurda district, Odisha, has been working tirelessly to support COVID-19 related activities and ensure that her community has access to essential and other health services. In her years of committed communit....
---
Bhubaneswar, July 2 :--The death toll due to COVID-19 in Odisha has increased to 27 as two more patients succumbed to the deadly virus, informed the health department on Thursday.
---
(Fast Mail News) - Angul district reported 15 positive cases of COVID-19 ; the biggest and first time single day jump for the district so far.The cause behind the sudden spike of COVID-19 cases is said to be the return of migrants to the district after the Centre allowed inter....
---
(Fast Mail) - Vedanta Ltd.'s Odisha operations, which include the world-class alumina refinery in Lanjigarh and India's largest aluminium smelter in Jharsuguda, have joined forces with the state, district and communities in the fight against the COVID-19 pandemic, thus reaching 7 l....
---
(Fast Mail News) -In a massive crackdown,on Friday Angul police nabbed 43 liquor traders,including the kingpin behind the illegal liquor trade during the lockdown Bikram Sahoo and seized 4,440 ltrs of OS liquor, 2. 6000 litres of Pocha: 30 nos of ....
---
© 2020 Fast Mail Media Pvt Ltd. All Rights Reserved.