Thursday 28th of October 2021
Government is working to make Northeast a growth engine of the country says Sarbananda Sonowal
(FMNEWS) -
Union government is working hard to make Northeast a growth engine of the country, and the region is taking speed on the path of development said Union Minister of Ports, Shipping & Waterways and Ayush, Sarbananda Sonowal while addressing the Stakeholder Conclave on Waterways as Engine for growth at Guwahati today.
Addressing the forum, Sonowal said that Union government is giving topmost priority to Northeast zone. He asserted that since 2014 the Prime Minister of India is working for the growth of the country with a special focus to Northeast region. He further said that now focus is given to the waterway connectivity in the region as a result Mongla and Chittagong ports are now accessible to us. He urged the stakeholders from across the Northeastern zone to take advantage of the conclave and priorities which products from this region can be exported to foreign countries.
Union Minister of State for Ports, Shipping & Waterways Shri Shantanu Thakur said that shipping ministry is taking initiatives to develop and use water resources and waterways for the economic development of the northeast zone.
On this occasion Chief Minister of Assam, Shri. Himanta Biswa Sarma said that this conclave is platform to get an idea how water resource can be used for economic growth and sharing of ideas through this kind of interactions can help the people of Northeast zone in getting the market for their product.
Related Special Reports News
Nearly 800,000 children in the United States have been diagnosed with COVID-19 since the onset of the pandemic, according to a new report of the American Academy of Pediatrics and the Children's Hospital Association. A total of 94,555 new child cases were reported from Oct. 8 to Oct. 22, whic....
---
Aizawl, Aug 08:-- Mizoram Governor P S Sreedharan Pillai did not let the Corona virus induced lockdown go in vain, but made use of his free time at the Raj Bhavan by writing books and poems. He has written at least 13 books, which include collections of poems in English and Malayalam since Mar....
---
New Delhi, Aug 05:-- Today is a special day for the countrymen. The entire Ayodhya is ready ready before the Bhoomi Pujan. 90-year-old singer Lata Mangeshkar has said that the whole world is very happy and as if today every beat is saying every breath, Jai Shri Ram. She shared a video on Twitter in ....
---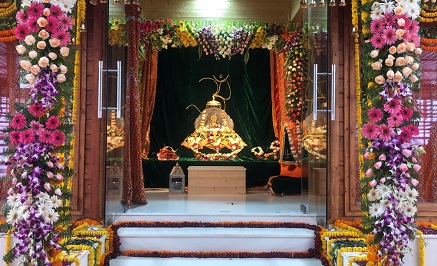 Ayodhya, 05 August:-- Funds of Shri Ram Janmabhoomi Teerth Kshetra Trust are constantly increasing for the construction of Ram temple in Ayodhya. It has increased a lot on the day of Bhoomipujan program. Swami Govind Dev Giri, treasurer of Shri Ram Janmabhoomi Tirtha Kshetraya Trust, to....
---
Ayodhya, 05 August:-- The connection of Kanchi Peetha has come to light in the foundation worship puja Muhurta being held on 5 August for the construction of Shri Ram temple in Ayodhyadham. A cone provided by Kanchi Peeth will be installed in the foundation of the temple. Swami Govindde....
---
© 2021 Fast Mail Media Pvt Ltd. All Rights Reserved.